At the Vision Australia Feelix Library, families can enjoy the magic of stories with our special braille and tactile storybook kits.
About Feelix
Reading plays a key role in the learning and development of every child, and the Feelix Library helps children who have vision loss to learn and develop in a unique, sensory way to support their lifelong literacy and learning.
Children who are blind or have low vision can become a member of the Feelix Library and have story kits delivered to their homes. The Feelix Library is a complete free service, and available across Australia.
---
Our storybook kits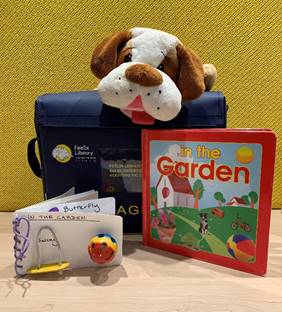 Our story kits help parents, carers and teachers bring stories to life for children through books, audio and touch. Story kits include:
A picture book with clear braille overlay
An audio recording of the book
A tactile book which tells the story through touch
Tactile toys/objects that relate to the story
Popular books
We have over 800 innovative storybook kits to choose from including much-loved children's books such as 'The Very Hungry Caterpillar' and 'The Gruffalo' to exciting new titles, such as 'Alpaca's with Maracas'. Storybook kits are available for all reading levels from simple stories for babies to more complex stories for school aged children.
Storybook kits are available in either Grade One (uncontracted) or Grade Two (contracted) Braille.
LOTE storybook kits
Storybook kits are also available in languages including Chinese, Vietnamese, Turkish and Arabic.
Join the Feelix Library
To join the Feelix Library, families must provide Proof of Disability on application.
Teachers, educational support persons and other support workers of our members can also become borrowers.
Contact the Feelix Library
For more information about the Feelix Library please contact Victoria Rogers on (03) 9864 9487 or email to feelixlibrary@visionaustralia.org