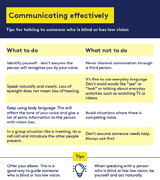 Communicating with patrons who are blind or have low vision
Never channel conversation through a third person.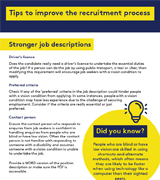 Tips to improve the recruitment process
Be open about the recruitment steps and what's involved.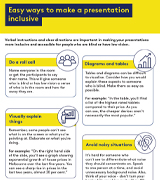 Easy ways to make a presentation inclusive
Name everyone in the room or get the members to say their name.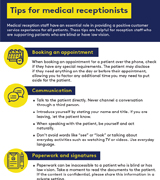 Tips for medical receptionists
Check if the patient would like your help with signing in.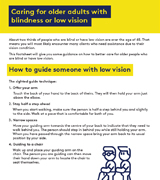 Caring for older adults with blindness or low vision
Chairs should be pushed under the table. Keep floors clean.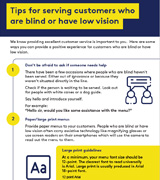 Tips for serving customers who are blind or have low vision
Do your best to describe what's on your menu.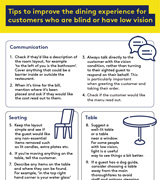 Tips to improve the dining experience
At a minimum, your menu font size should be 12-point.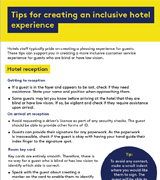 Tips to improve the hotel experience
If a guest appears to be lost, check if they need help.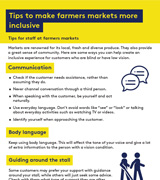 Tips to make farmers markets more inclusive
Offer your elbow - this is a great way to guide the customer.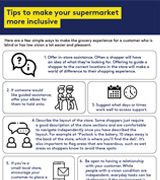 Tips to make your supermarket more inclusive
Suggest what days or times work well to access support.
Sport, arts and entertainment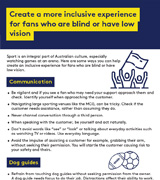 Tips to make venues more inclusive
Be open to guiding the patron to their seat.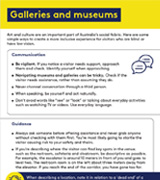 Galleries and museums
When helping a patron find a spot, be descriptive as possible.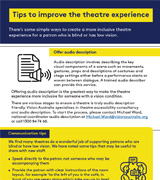 Tips to improve the theatre experience
Introduce yourself when greeting the patron.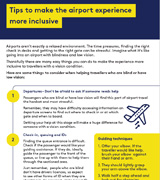 Tips to make the airport experience more inclusive
Remember, dog guides are working and should not be distracted.