General Manager Commercial Services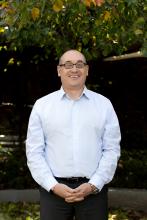 Michael joined Vision Australia in November 2020. He is a qualified accountant and spent 15 years early in his career with the Australian Taxation Office before moving into the for-purpose sector, spending time at Royal Blind Society as an area manager and then RSPCA ACT as CEO, and most recently at Recreational Aviation Australia as CEO.
Michael holds a bachelor's degree in taxation law, a master's degree in business administration, majoring in marketing and is a graduate of the Australian Institute of Company Directors. In 2019, Michael was accepted into Harvard Business School where he completed an executive education program specialising in authentic leadership.
Born and raised in the inner Sydney suburb of Alexandria, Michael was diagnosed very early in life with high myopia with vision limited by atrophic myopic maculopathy. In 2013, he suffered a major retinal detachment requiring extensive surgery and rehabilitation.
Michael loves to travel independently, however his extreme short sightedness means he cannot see details more than a metre away.
Michael has enjoyed success in the sporting arena playing blind cricket, representing NSW, SA, the ACT and Australia at a variety of national and international events over a 20-year period. He's also played ten pin bowling, representing the ACT and Australia numerous times.
Michael lives in Canberra with his wife, Mardi, sharing their home with seven cats, a dog (who thinks she's a cat!) and a school of goldfish. He enjoys listening to music (from Pirates of Penzance to Powderfinger and Pink Floyd) and photography. As a photographer, the world he doesn't see, is captured for later review on his 27 inch iMac. Mostly the results are blurred and crooked, but every now and then a picture worthy of sharing is captured.