General Manager National Programs and Client Insights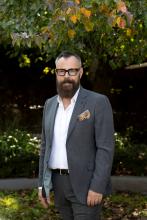 Graeme joined Vision Australia in 1995 and the leadership team in April 2013.
He has experience in the delivery of services, tertiary training of service providers and management at a variety of levels. He has worked in the vision impairment sector in Australia, New Zealand and the United Kingdom throughout the past 28 years.
As general manager of service innovation, Graeme leads a team building innovative products and services through a process of developing deep and broad client insight into the changing wants and needs of our current and future clients. The team then apply a co-design approach to new service or products and through a rapid design process will bring these to clients through our service teams.