Chief Information Officer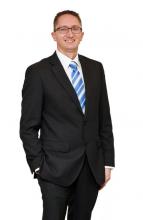 I joined Vision Australia in 2001 as an access technology consultant, specialising in workplace assessments after earlier working in IT roles with the Royal Australian and New Zealand College of Psychiatry and Melbourne Business School.
Since joining Vision Australia, I've held a number of positions across the areas of access technology, accessibility, project delivery, strategy development and business transformation. Before my appointment to CIO in June 2018, I managed the Strategic Program office focusing on strategy development and execution.
I have a Masters of Biomedical Engineering and a Bachelor of Computer Science and still like the opportunity to get my hands "on the tools" when possible, although as a father of three children these opportunities are currently few and far between.
I'm based in Melbourne, where I'll often be found in my backyard working on the next big home renovation project.