Chief Practitioner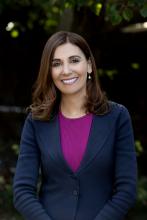 A registered Occupational Therapist, Amelia is an experienced practitioner, operational, strategic and quality manager passionate about supporting clients to achieve their goals.
Over the past 20 years, Amelia has held a number of senior leadership positions in the areas of disability, health and rehabilitation across government, not for profit and commercial sectors. Since joining Vision Australia in 2010, Amelia has held the roles of National Manager Employment Services, Business Transformation Consultant and Manager Clinical Governance.
As Chief Practitioner Amelia leads Vision Australia's Clinical Governance and Compliance teams and is committed to person centred, evidenced based best practice, continuous improvement and innovation to support the achievement of high quality outcomes for people who are blind or have low vision.
With Graduate Certificates in Applied Business and Organisational Coaching, Amelia has a keen interest in the application of coaching in client service delivery and leadership development.