DAT 101: Everyday Document Accessibility
Overview
Learn how to create accessible Word documents quickly and easily with the Document Accessibility Toolbar (DAT).
Designed to increase accessibility awareness and help make document accessibility an everyday business practice, this course supports individuals and whole organisations to use the DAT effectively and with confidence.
Featuring how-to videos, interactive activities, real-world examples and downloadable tip sheets, DAT 101 is an essential resource in any organisation's accessibility strategy.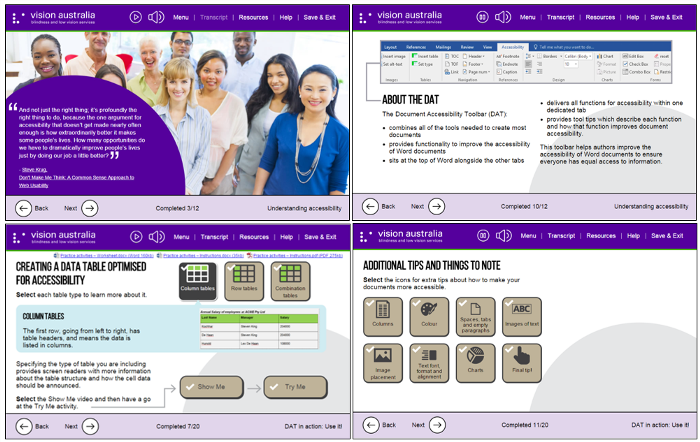 Who will benefit from this course?
This course is suitable for anyone looking to improve their understanding of accessibility and learn key functions to make a Word document more accessible to people with disabilities or impairments.
Business outcomes
By implementing this course your organisation can:
Drive accessibility awareness and implementation across all business areas
Upskill staff in accessible document creation
Facilitate a strategic approach to document accessibility
Demonstrate a commitment to social and digital inclusion
Reduce staff resistance to accessibility
Support staff to implement accessibility as part of their day-to-day processes
Improve the accessibility of content produced across a range of digital formats
Save time and money on accessibility remediation
Fulfil its obligations under the Disability Discrimination Act and Digital Service Standard
Topics
Understanding accessibility
Why is document accessibility important?
What makes a document accessible?
What is the DAT?
DAT key features and benefits
How to add a document title
How to apply title and heading styles
How to create a properly spaced bulleted list
How to add alternative text to images
How to create a data table optimised for accessibility
How to create accessible hyperlinks
How to add a table of contents
How to find and correct insufficient colour contrast
How to run an accessibility check
How to save your document as an HTML web page
How to remove metadata from your document
How to use the DAT's in-built screen reader
Learning outcomes
On completing this course, learners should be able to:
Describe why accessibility is important
Identify what makes a document accessible
Use each DAT function and describe its benefits
Create an accessible Word document using the DAT
Duration
Approximately one hour.
Course requirements
Learners will need access to the DAT in order to complete this course. Available for free download, the DAT is compatible with Microsoft Office 2010 - Office 365 on a PC on a PC.
The download file can be used with a tool (e.g. Microsoft System Center Configuration Manager) to package and distribute to computers across a whole division or organisation.
Visit the DAT frequently asked questions page.
Delivery and pricing options
Various licencing options and bulk discounts are available. To discuss your options or obtain a quote please contact us: 
•    Phone: 1300 367 055
•    Email: [email protected]
Recommendation for higher learning
DAT 101 should be used as a general resource to increase accessibility awareness and introduce basic Word accessibility skills across all business areas.
Key personnel who would benefit from a higher level of document accessibility training should enrol in our full-day course, Creating Accessible Documents: Word and PDF. This face-to-face workshop provides important contextual information, advanced accessibility techniques for Word and PDF, and further skills to optimise conversion from Word to PDF. Participants also gain free access to DAT 101 after the course. Visit the Creating Accessible Documents: Word and PDF page for full course details.
Course Enquiries
Phone: 1300 367 055 
Email: [email protected]