Will you help us with a special tax time gift?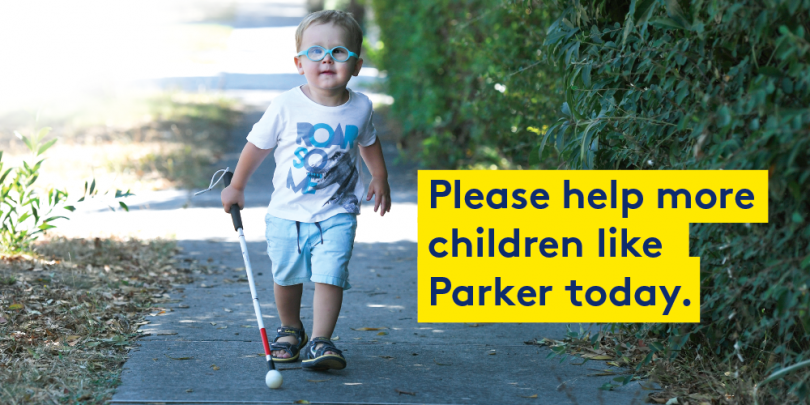 ​
Learning that your child may never see, is a heartbreaking moment for any family.
Parker was three-months-old when his mum, Amy, started to worry. She says: 'He wouldn't look at you when you walked into the room. You'd say, "Hi, Parker," and he'd have a big smile on his face, but he wouldn't look in your direction. I started to realise something was wrong.'
Amy also noticed his eyes shaking: 'His eyes would wobble quite a lot, especially when he was tired.'
Amy was convinced something was very wrong: 'I knew something was not right in regards to his eyes. I brought it up with the maternal health nurse at his four-month-old maternal health visit, and she said, "Are you ready for this?"'
How could any parent be ready for the news that their child could be blind?
Parker was diagnosed with juvenile retinoschisis and nystagmus. He can see some colours and shapes, but very little else.
Parker is only two-years-old and will need significant support in the months and years ahead. He will need to learn to use his long white cane to walk around safely, independently and with confidence. He will also need to learn how to read braille and use other assistive devices critically important to children like him with blindness or low vision to learn to read and write.
The combined efforts have been helping Parker to not just develop what little vision he has, but also to develop physically, too. He has had a cane since his first birthday, and with a lot of help from the physio and mobility experts, Parker was finally able to walk at 18 months.
Parker's Orientation and Mobility Specialist, Cath, works with Parker each week to ensure his learning and development are on track.
The biggest focus now is to prepare Parker for the school years ahead.
Cath says, 'Parker is likely to face challenges when at Kinder and school such as locating his friends in the playground, reading visual/facial cues and knowing what is going on across the classroom or playground. Vision Australia will support Parker's family and Kindergarten staff to provide strategies to assist Parker with these challenges.'
We have become an important part of many families, helping to provide the expert guidance and support needed to help children like Parker grow up to be independent and able to realise their potential. But we couldn't do this without your help.
Amy knows what Vision Australia means to her little boy: 'Vision Australia helps us come up with solutions so that Parker can reach his goals. He has achieved every goal we've set. He couldn't have done that without the support of Vision Australia.'
Your kindness will make this support possible, not just for Parker, but for more children just like him who come to us for care and support.
Your generous gift today can:
Help provide specialised training to a child to learn to brush their teeth and dress themselves.
Help teach children braille so they can learn to read and write.
Help pay for a Feelix Library Kit which helps kids to learn in sensory way.
Amy & Glen are thankful, because they know he's got a very special family to help him: 'Vision Australia worries about Parker's future and they take ownership of his development just as much as we do as his parents. They want to make his dreams come alive, they want him to be whatever he wants to be, and they will help us make that happen', says Amy.
Have you ever wondered how a child who is blind or has low vision learns how to brush their teeth, get dressed or know how to move around their home or school safely without their sight?
Your gift today can go towards supporting a child like Parker get the help they need from an experienced Vision Australia therapist to learn such everyday skills.
P.S. Your tax-deductible donation can be included in this year's tax return if you donate before June 30.