Every childhood should be filled with joy and wonder. This Christmas, your kindness will help Kaitlyn experience its magic.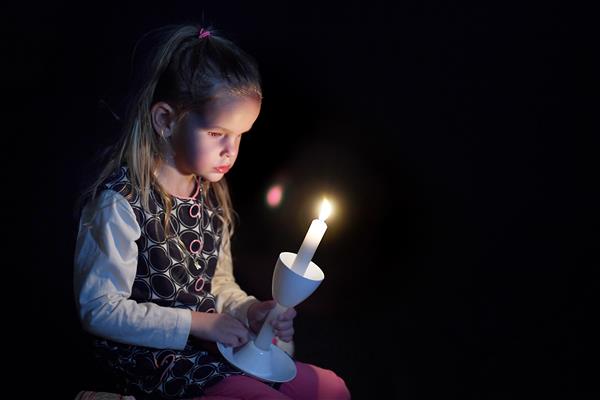 Click here to make a special donation towards our Carols by Candlelight Christmas campaign today.
Having just turned four, Kaitlyn loves her books, playing with her brother, and even bouncing on her trampoline. For a little girl who's almost entirely blind, Kaitlyn continues to amaze her mum, Jess.
When she was pregnant with Kaitlyn, Jess was given devastating news at her 20-week scan: 'They told me she might be born without eyes.'
For Jess and her husband Kane, the joy of welcoming a new baby was replaced with fear. As Jess recalls: 'I had been so excited to be pregnant for the second time, but after the scan, it was so hard to stay positive.'
Kaitlyn was born with a rare condition known as bilateral microphthalmia. She has a very small amount of vision in her left eye, and can only see light in her right eye.
Jess worried about the years ahead: 'I tried to keep it together and to hold in my emotions.' It wasn't until she first met the support team at Vision Australia that she felt hope for her baby girl.
It takes a support network to give a child like Kaitlyn every chance to develop their ability to talk, read and walk. Vision Australia's experienced specialists work with Kaitlyn and her family, providing them with knowledge, skills and support to build their capacity to ensure that Kaitlyn can fully participate in all aspects of daily life, at home, at school and in the community.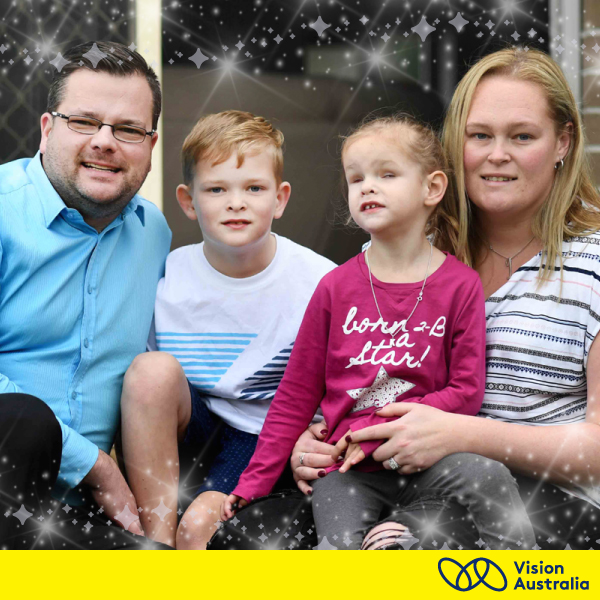 This network of experienced professionals - which includes orientation and mobility specialists, physiotherapists, speech therapists, and early childhood specialist teachers, to name a few - is only possible thanks to the incredible kindness of people like you.
Vision Australia's support helped Kaitlyn's family learn ways to promote her development, from the early few months of her life. Our Early Childhood Specialist Teacher, Melinda, says: 'The role vision plays in learning is very significant. It helps a child to put all of the information together. Where there is vision loss, opportunities for incidental learning are reduced.'
One thing Jess is very proud of is Kaitlyn's love for music and her interest in the piano. As Jess explains: 'She loves to play and it's starting to sound like she is connecting some notes.' This is why Kaitlyn is very excited to be part of Vision Australia's Carols by Candlelight campaign this Christmas, and this year our hope is that Carols will be bigger than it's ever been before!
For the first time, we have created a Carols by Candlelight matching fund, providing the opportunity for your gift to be matched with another Australian who donates on Christmas Eve. If you would like to have a greater impact on a child like Kaitlyn, please click here to send your donation today, so that your gift can be multiplied.
Next year, when Kaitlyn starts kindergarten, it will be an exciting time, but there will be obstacles to overcome.
To give her every chance to learn, Melinda will be busy working with Kaitlyn's teachers: 'We will be supporting her family and the staff at the kinder, so that Kaitlyn is fully included in the program, and to make sure it is safe and accessible for her.'
As a mum, all Jess wants for her daughter is to have the same chance to be included, so she too can enjoy learning, just like other children her age. With your help, we can provide the support and tools needed to make this possible. Your support helps fund programs like the Feelix Library, where tactile books and toys make stories come to life for children like Kaitlyn.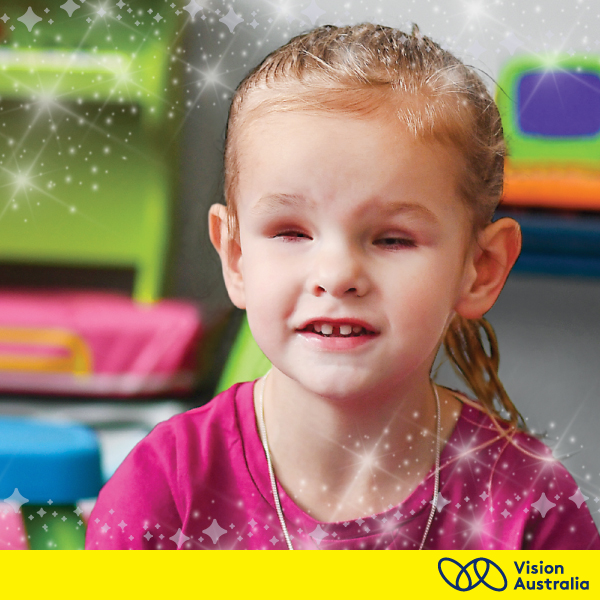 Your special gift towards our Carols by Candlelight Christmas campaign today will ensure children like Kaitlyn are able to experience all the joy and magic of Christmas.
$45 can help pay for a long white cane, ensuring a person who has low vision can move around safely.
$100 Can help pay for a technology training session for one person, giving them access to a world of transformation.
$310 can help pay for a Vision Australia Feelix Library Kit for pre-schoolers, which includes books with braille, tactile toys and a copy of the story on CD.
$1250 can help pay for orientation and mobility training sessions, teaching a person with blindness or low vision how to safely move around their home, local area or school.
Please help Kaitlyn, and many other Children with low vision, experience all the wonders of not just Christmas, but of being a Child. Your donation can give them the support to make this possible. Thank you. Click here to head to our donation page.