No matter what level of vision you have, Vision Australia can support you to life the life you choose.
We are the leading national provider of vision loss support and services and work with people of all ages and stages of life. From learning skills for daily tasks around the home, to discovering the latest assistive technology. From building skills to travel independently in your community to finding others to socialise and connect with. We also have specialised services for children, supporting them to reach their full potential.
We are here to support you to achieve your goals, your way, whatever they may be.
Find out more about some of our most popular services using the following links: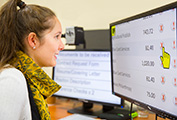 ---
There's so much to discover with Vision Australia, so call us on 1300 84 74 66 or email [email protected].
Accessing Vision Australia services
There are a number of ways you can access Vision Australia's services.
For National Disability Insurance Scheme (NDIS) participants, you can find out more about using your NDIS package with Vision Australia by downloading our NDIS fee schedule:
For more information on other methods of accessing Vision Australia services, call 1300 84 74 66 or email [email protected].
You can also make a referral:
---
Find out more about Vision Australia by checking out our brochures here.