Robbie Dunia can't wait for his chance to support other young people who are blind or have low vision.
Robbie, 18, has recently joined the Vision Australia Volunteer Peer Support Program, which matches people with similar lived experiences relating to vision loss. Once he is matched with somebody, Robbie will act as a support network and outlet for the other person.
"If I'm out walking around, people wouldn't necessarily know that I'm blind because I'm pretty confident. I didn't used to be that way, I would spend a lot of time just sitting at home doing nothing, but working with Vision Australia's occupational therapists and counsellors really helped me and I'd like to help others if I can," Robbie said.
"If somebody doesn't accept or come to terms that they have vision loss then they're not going to grow as a person, It's something that everybody needs to do on their own, but hopefully I can help by being somebody they can talk to and help them realise they're not alone in what they're going through," he said.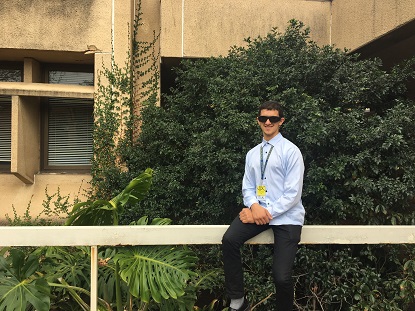 Robbie is legally blind as the result of Rod Monochromatism, which means his eyes are sensitive to light and have trouble detecting colour. He also has severely reduced peripheral vision.
Robbie was born with the condition and his vision deteriorated to its current level when he was in early primary school.
Having gone through the majority of his life as someone with vision loss, Robbie believes he can empathise and relate to most things other young adults who are blind or have low vision are experiencing.
He also believes he can provide specific advice around sport and cooking, two areas he is extremely passionate about.
"Sport is something I've always enjoyed being around. Growing up I always wanted to play rugby league, but I couldn't because of my vision. I've played blind cricket and bind soccer and when I was in high school I was introduced to goal ball and it's something that I really enjoy.
"It's been great to find something that I can be good at that doesn't have to be altered to suit me like other sports. It's something that I really enjoy being involved in."
Along with talking about the social benefits of being involved in sports, Robbie said he can also pass on information about how people who are blind or have low vision can find and get involved in sporting clubs as well as practical advice about how goes about getting to and from games.
In terms of practical advice, Robbie, who holds a Certificate II in Kitchen Operations, said he can also help when it comes to being in the kitchen.
"I've always enjoyed cooking and being in the kitchen. I did Food Tech all through school and I wanted to be a baker for quite a while. I've never been worried about being in the kitchen and cutting myself or getting burnt.
"When it comes to actually cooking I might use touch to tell if something's cooked where as a sighted person might just look at. I've got other things that I don with my hands when I'm cutting things so I always know where the knife is. I've cut myself a couple of times, but I think that happens to everyone in the kitchen."
While Robbie is looking forward to being matched with his first peer, he said the first stages of the program had been a huge benefit to him.
"I really enjoyed the training. There was quite a few of us all in the room doing the training at the same time and it helped me to become more confident in talking to people I don't know.
"That's something I was never really comfortable doing, but now I wouldn't really have any problem introducing myself to somebody I don't know."

For more on the Peer Support program, click here.