It can be a tough thing to do, but Jane Britt believes speaking up is the best way for people who are blind or have low vision to overcome the challenges they may face during tertiary education.
Jane lives with low vision due to glaucoma which she developed in early childhood and is currently studying a Doctorate of Psychology at the University of Queensland. The 31 year-old has recently joined Vision Australia's Tertiary Peer Support Program in the hopes she can support others from the blind and low vision community to navigate through tertiary education.
"For somebody who is blind or has low vision there are a few challenges that come with going through uni," Jane said.
"There were times when I wished it had been a little bit easier and I thought maybe I could offer some support to others who might be going through the same things I did," she said.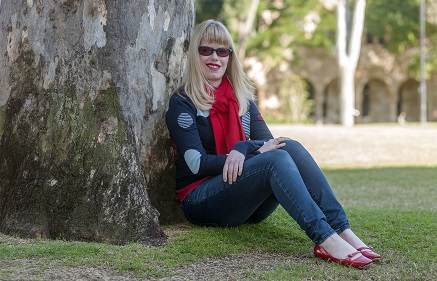 While Jane's time at university has allowed her to develop a range of strategies to help her be an effective student, she said there is one major thing she will pass on to other students who are blind or have low vision.
"There are a few different things that have helped me, but I think the biggest thing has been learning to self-advocate. Approaching people and having a face to face dialogue about my situation made a real difference.
"For some people it can be a difficult thing to discuss with somebody that they need different things, but in just about every occasion after I had that discussion my lecturers or whoever else were more than happy to make changes or do things to assist me."
Prior to becoming a Tertiary Peer Support Program mentor, Jane had been involved in similar programs run through her university, but she believes just about anybody who is blind or has low vision with tertiary education experience could be involved in the program.
"One of the biggest things that can help is just giving somebody the chance to talk to another person who can relate to what they're going through.
"You don't necessarily need to have specific qualifications or be an expert. A lot of the time people just want somebody who will listen to them and help them understand that they're not the only person who's experiencing a certain situation."
Vision Australia's Tertiary Peer Support program is conducted over the phone, with the level of interaction between peer and mentor decided on by the two parties.
If you think the program could support you, click here or call our helpline on 1300 84 74 66 or email [email protected].