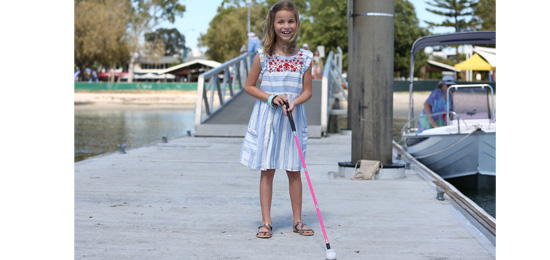 Give the chance to dream big for kids like Kaylah!
Eight-year-old Kaylah is bursting with excitement. This bright and intelligent little girl just borrowed a new book from the school library—she absolutely loves learning new things. But, as reading time comes around, and her classmates begin to read books of their own, Kaylah's remains hidden in her bag. Having low vision or being blind should never lower a child's desire or ability to learn. A lack of sight should never mean a lack of dreams.
But, without specialised support, it will.
Kaylah was diagnosed with an eye condition called Leber's congenital amaurosis when she was just six months old. Sadly, she's never been able to see the world clearly. Kaylah cannot see or recognise anything even right in front of her.
Her parents, Adam and Jeanette, became concerned when as a baby she wouldn't follow their movements with her eyes. Adam says, 'I was in denial, thinking her vision was just something that will come on. I thought, everything will be fine.'
It wasn't.
Her mum, Jeanette, took the diagnosis hard: 'I cried for a whole year. I was so depressed. I couldn't accept it and I wouldn't go out of the house. I didn't want anyone to look at her. I was a mess.'
But with help from Vision Australia's Paediatric Occupational Therapist, Karen, they've been amazed by how talented and determined their daughter has become.
Karen confidently says, 'There should be no reason why Kaylah can't achieve every one of her dreams. She's very bright.' Jeanette agrees too: 'Kaylah's such a bubbly little girl, and so smart. I expect her to go places in life. But if it was not for Vision Australia to guide me, I think Kaylah would not be where she is today.'
With the support and therapy that Vision Australia expert staff can provide, Karen believes there is no reason why any child who is blind or has low vision can't have big dreams.
Will you please donate today, so Kaylah's low vision doesn't have to lower her dreams?
Each year, Kaylah has to deal with new challenges. Her dad, Adam tells me, 'I'm concerned about the little things that you take for granted, in terms of life skills. Feeding, cooking, all those sorts of things that a sighted person does without thinking.'
Without her independence, Adam worries: 'How will people perceive her? How will people treat her? As a child, I'm not so worried, but later on in life, people taking advantage is a big concern.'
It's why this year Adam and Jeanette are helping Kaylah to develop life skills. Jeanette says: 'This year we are focussing on personal growth. Kaylah is still unable to dress herself, feed herself with cutlery, or bath herself. She gets frustrated, but we are slowly getting there with the help of her occupational therapist from Vision Australia.'
Adam is very glad Karen is there to guide them. 'Jeanette and I have never obviously been through anything like this, so to have someone, or an organisation like Vision Australia, who can teach us and Kaylah all the way through, is a huge sort of relief,' he says.
Our specialised services are tailored to the needs of each child and their families who approach us for our support, helping them to maximise their potential.
We hope for your help so we can give more families like Kaylah's the confidence that we will be able to provide all the support they need throughout every stage of their life.
Will you please give a tax-deductibe donation by June 30, so a child living with low vision doesn't have to lower their expectations on what they can achieve in life?