A partnership between Vision Australia Radio and regional community radio station 103.9 Seymour FM has allowed residents in Seymour and the Strathbogie area who are blind or have low vision, or any print disability, to access essential information with the airing of The Vision Australia Hour.
Made up of content from both the Vision Australia Radio network, Talking Vision and Talking Tech,  and blindness advocacy organisation Blind Citizens Australia (BCA), New Horizons, the program provides specialty content of relevance to people who are blind or have low vision.
This includes interviews, current affairs, news and information, and accessible tech and gadget updates.
Vision Australia Radio network manager Conrad Browne praised Seymour FM for its proactive approach in ensuring the content was broadcast. 
"The town of Seymour and the Strathbogie region are outside our network's transmission area so we were thrilled when they reached out to us. We know that there are people with a print disability in the region," Conrad said.
"We also know how important the program is to our regular listeners and that many have found the content not only interesting and entertaining but life changing."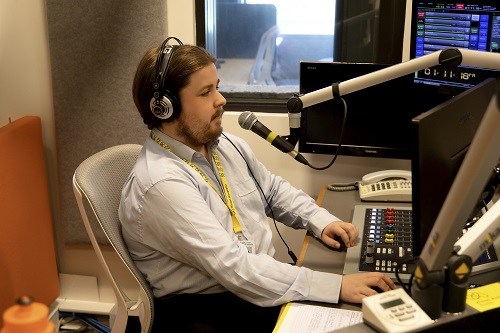 Caption: Sam Colley hosts Talking Vision, which forms part of The Vision Australia Hour on Seymour FM.
Former BCA president and local Euroa resident John Simpson saw the opportunity for the content and initially drove the partnership
"Seymour is a major town with a large older age population. For many, this might also mean vision loss. The increased coverage of the program means the vital information will go out to people who need it."
Seymour FM president, Ruth Yeat, said the station was delighted to broadcast a regular program which supported community members who experience vision loss.
"Vision Australia provides important and up to date information that enables people with low vision to lead active and fulfilling lives," she said.
The Vision Australia Hour can be heard at 8pm Tuesdays on 103.9 Seymour FM.