These days, Tilly Aston isn't a household name. In fact, very few people have heard of her at all. In her lifetime though, Tilly accomplished great things, and she deserves to be remembered.
November 1, this year marked the 75th anniversary of Tilly's death. She never married or had children, but she's survived by an enduring legacy that transcends decades, and has positively changed the lives of blind Australians ever since.
Tilly was born in 1873, in a small agricultural community in regional Victoria. The youngest of eight children, she was completely blind by the age of seven, but Tilly's diagnosis didn't stop her from living a life full of great joy, great sorrow, and great deeds.
"Tilly was a fantastic woman who dealt well with the events in her life," Deborah Mould, Vision Australia heritage librarian said.
Upon consideration of Ms Aston's life's work, it is difficult to determine which achievement has been more beneficial for Australia's blind community.
Early on in her adult life, she spearheaded a movement to introduce a braille library in Victoria, and subsequently provided access to information and recreation for over 1000 Victorians living with blindness and low vision.
In addition, and in light of the fact that braille books were (and remain) large, heavy, and altogether cumbersome, Tilly successfully campaigned for free postage for any and all forms of braille mail. Simultaneously, Tilly campaigned to ensure voting rights for the blind, and successfully achieved both of her goals in 1902.
"Tilly set an example of blind people advocating for blind people," Bruce Maguire, Vision Australia lead policy advisor, explained, "She knew what she wanted for herself, and for other blind people."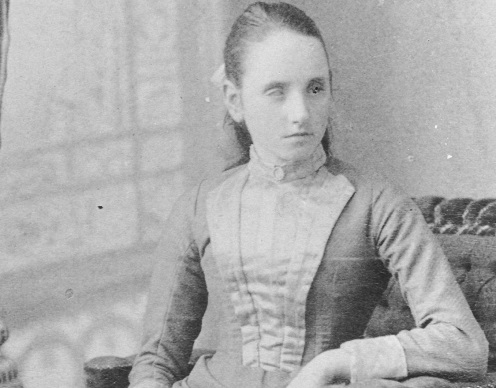 Caption: Tilly Aston was a strong advocate for the blind and low vision community from a young age.                    
When Tilly wasn't advocating for herself and her fellow blind and low vision citizens, she was teaching, and when she wasn't teaching, she was writing. Some of her published works include Maiden Verses, Songs of Light, and Old Timers.
A collection of her works may be found in the Vision Australia Library.
"For the time, and for her generation, she was a pioneer," Bruce explained.
Not only was Tilly the first blind person in Australia to receive a Senior School Certificate, she was also the first blind Australian to attend university. Her endeavours in advocacy for herself and her peers earned her worldwide recognition, interviews for newspapers and radio programs wherever she visited, and the friendship and esteem of many, including politicians, scholars, and community leaders.
"She knew the barriers. She made change happen," said Deborah. 
Tilly's efforts to improve the lives of Victorians living with blindness and low vision have had a profound impact on generations of blind Australians.
Although there is still much to be done to provide people living with blindness and low vision with the same rights and access as others in the community, the legacy of Tilly Aston serves as a lasting reminder of the remarkable things that can be achieved when one is determined to create and advocate for positive change.