Members of the Vision Australia Library enjoyed a wide variety of books this July, with mysteries, thrillers, Australiana, non-fiction and biographies all proving popular.
Check out the 10 most borrowed books below and you'll understand why the Vision Australia Library's huge catalogue is so popular!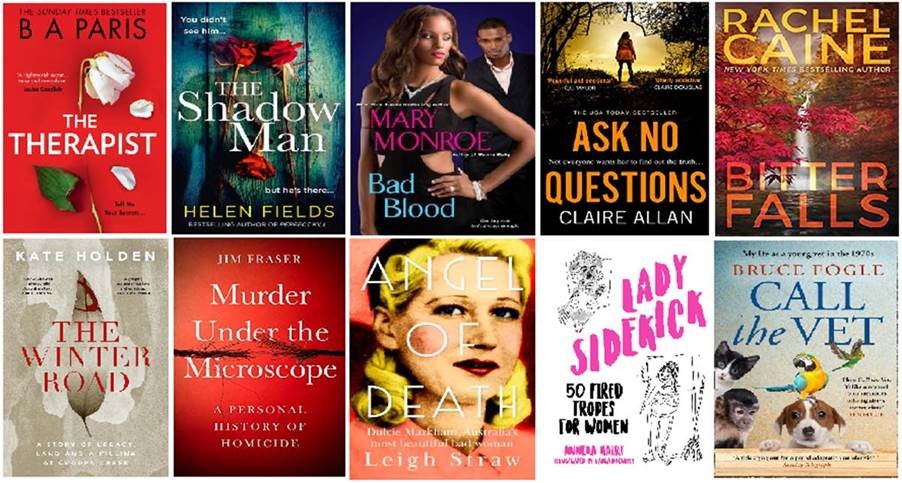 Caption: July's top 10 books at the Vision Australia Library had something for everyone. 
July's top 10!
The Therapist by B.A Paris:
18 months ago, Mina - therapist and former occupant of Alice and Theo's new home - was found dead in her bathtub.
Sharing an odd but strong connection with the victim, Alice grows obsessed with uncovering the mystery behind Mina's murder, but not all is as it seems in the Circle, and none of Alice's new neighbours are talking.
The Shadow Man by Helen Fields
Elspeth, Meggy, and Xavier are trapped in a flat. The Shadow Man has taken them. They don't know why and they don't know where, but they do know they have to escape. Even if it means uncovering a very dark truth. The Shadow Man is very real though, and he is watching. 
Bad Blood by Mary Monroe
Seth Garrett knows what he wants, and Rachel McNeal, hard-working, wealthy and beautiful, fits the bill… Until she doesn't. That's okay though – Seth has a perfect replacement lined up to take her place, and more importantly, to give him the life he deserves.
Ask No Questions by Claire Allan
At eight years old, Kelly Doherty disappeared on Halloween. Three days later, her body was found by her classmates, but the crime was never solved.
It's been 25 years since then, and Ingrid Devlin is investigating Kelly's murder, but someone would rather the truths stay buried. Through it all is Kelly's family, who are not what they seem.
Bitter Falls by Rachel Caine
After her harrowing past, a new assignment gives Gwen Proctor purpose. A case gone cold, a missing son, and a mother in search of answers – Gwen understands what it's like to worry about her children.
As Gwen investigates, she unearths new suspects and victims, and all the while, the mystery (and its implications) grow increasingly concerning. Why? Because the closer she gets to uncovering the truth, the closer she gets to a threat that looms large back home.  
The Winter Road by Kate Holden
A lonely road at dusk, and two men with contrasting ideals regarding land, law, and legacy. It's July 2014, and 80 year old farmer Ian Turnbull has just shot Environment Officer Glen Turner in the back.
In this novel, set within the backdrop of rural New South Wales, Kate Holden grapples with questions of ethics, purpose, and inheritance. Do we serve the land, or does the land serve us?
Murder Under the Microscope by Jim Fraser
Jim Fraser draws on his personal experience as a forensic scientist and cold case reviewer to examine some of the UK's most high profile (and more recent) murder cases.
Borrow Murder Under the Microscope
Angel of Death by Leigh Straw
Dulsie Markham is known as a woman who has seen more violence and death than any other woman in Australian history. Active between the 1920's and the 1950's, and dubbed the Black Widow and the Angel of Death by police, criminals, and reporters alike, her lovers were killed in some of the most violent years of Australian crime, and not always by her. 
Lady Sidekick by Anneka Harry
Anneka Harry takes all of the tired, 20th century tropes of women, calls them out, and reclaims them. With special guest appearances from comedian Rosy Jones, actor and poet Jade Anouka, and journalist and author Alya Mooro, Anneka analyses such cliches as the English Rose and the Manic Pixie Dream Girl, though not without a generous side of sarcasm and humour. 
Call the Vet by Bruce Fogle
The year is 1970, and Bruce Fogle has just arrived in England. He learns quickly that just because he speaks English, doesn't mean he understands the English. He also learns that studying in the best veterinary school in the world doesn't immediately make him a decent vet.
Between caring for the pets of some of England's most distinguished figures and the animals in the 'Zoo Department' of Harrod's, Bruce's veterinary education has only just begun.
All these and more are available from the Vision Australia Library for anyone who is blind or has low vision or lives with any other print disability. Check out the Vision Australia Library catalogue or find out how you can become a member today!
You can also find out more about the Vision Australia Library by calling 1300 654 or emailing [email protected].