16 September 2021
Improved access to specialist services is on offer to Perth's blind and low vision community, with the official opening of Vision Australia's new West Leederville location.
The leading blindness and low vision service provider established itself in Perth in 2014 and has moved into its new location to meet the needs of a growing client base.
"We've been fortunate to be able build wonderful connections with the blind and low vision community across Perth and Western Australia and we're really excited about what our new location means for our clients and their families," Donna Fahie, Vision Australia regional client services manager said.
"The new location gives our occupational therapists, employments consultants, orthoptists, orientation and mobility specialists and other frontline staff a bigger and more modern location to hold appointments with our clients," Donna said.
"We're also really excited about being able to have a much bigger space for our Vision Store, which means we can provide our clients the chance to access and get hands on with an even bigger range of life-changing specialist technology.
"We're also in close proximity to key public transport routes, which means we're now much more accessible for our clients, many of whom rely heavily on public transport."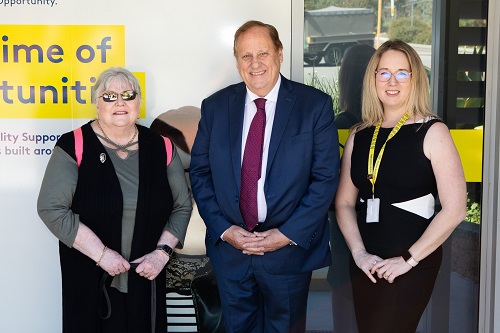 Caption: Vision Australia client Geraldine Lane, WA Disability Services Minister Don Punch and Donna Fahie, Vision Australia regional client services manager. 
The new location was officially opened at a special open day on Wednesday, September 15, attended by WA Minister for Disability Services Don Punch, Town of Cambridge Mayor Keri Shannon and Vision Australia staff and clients.
"We've had wonderful support from the Western Australian government and the City of Vincent throughout our time in Perth and we're grateful to have Minister Punch and Mayor Shannon attend the opening," Donna said.
Attendees at the open day got hands on with the latest blindness and low vision technology as well as participated in cooking and orientation and mobility sessions.
"We're really keen for people to understand the full range of services we offer to the blind and low vision community. No matter your age or circumstance we're able to support people to live the life they choose.
"Whether it's at home, work, school or in the community, living with blindness or low vision doesn't have to be a barrier to a safe, active and independent life."