28 July 2021
Bill Jolley says trust in the people around him was enough to calm him down after being pulled over on the Kazakhstan-Kyrgyzstan border during a snowstorm.
"There was confusion on whether we had the correct visas," he says.
"I just used the principle of we'll follow the guy who is driving, he knows what he's doing and it all got sorted out."
Blind since birth, Bill has been an avid world traveller. Speaking to Peter Greco on Talking Vision this week, Bill says following the customs and direction of locals can be very helpful.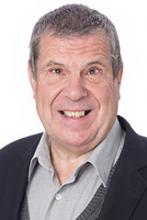 Photo caption: Bill Jolley
"As a blind person in a country with a different language, you are doubly disadvantaged, no question about that.  You can't pick up much from what's being said and you can't see of course, so you do need to trust implicitly," he says. 
"If they say to you 'the foods alright to eat', well it's alright to eat, if they say 'don't drink the water', well don't drink the water."
Recently Bill has been awarded an honorary life membership of the World Blind Union. An executive member of the Union representing the East Asia Pacific region for 13 years, Bill has travelled the world meeting other blind and low vision advocates.
Listen to the full interview in the player below:
Bill was also a founding member of Blind Citizens Australia and also served for eight years as treasurer of the International Council on English Braille. He is also a director of Vision Australia.
Talking Vision is a weekly discussion of issues relating to blindness and low vision.
It includes stories of inspiration and achievement and information on services for the community.
Tell us your story by emailing talkingvision@visionaustralia.org