08 October 2020
Blind and low vision children from across Brisbane got hands on in a special school holiday woodworking program run by Vision Australia recently.
Under the supervision of trained Vision Australia staff, participants, aged 12 - 17, were instructed how to use power tools and other woodworking equipment to complete a project of their choosing.
In the past, participants in similar woodworking programs have built items such as tool boxes, smartphone holders and other household items using mainstream and specialised blindness and low vision equipment.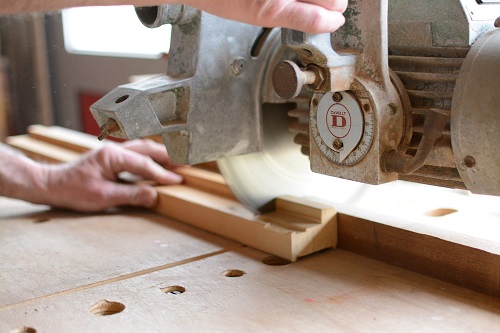 Caption: Mainstream and specialist woodworking devices can be used by people who are blind or have low vision
Liselle Sidhu, Vision Australia children and young people regional client services manager, said the program is part of Vision Australia's efforts to open up more opportunities to the blind and low vision community.
"People who are blind or have low vision have the same passion and interests as sighted people and often the biggest barriers they face are the misconceptions of others," Liselle said.
"Woodworking is a great example of that. Living with blindness or low vision does mean there are some different ways of doing things, but with the right equipment and knowledge it's by no means off limits," she said.
"Programs like this help our clients understand they can pursue any opportunity in life and that's important for them in developing personal and professional goals. Skills learned on the day also carry over to manual arts subjects they may study at school."
Meet the awesome teens who are overcoming vision impairment to excel at wood work. Instead of relying on sight, the students and their teachers focus on touch, with modified measuring tapes and drill lights. pic.twitter.com/F5lztpaiSz

— The Project (@theprojecttv) October 4, 2020
Along with giving participants a chance to try their hands at a new activity, the school holiday program also supported children who are blind or have low vision and their families connect with other available support services.
"We do find that some families don't know what support is available or how to access it. Programs like this are a great way for children and their parents or carers to connect with Vision Australia, as well as each other," Liselle said.
"From here we can assess if a child might like to continue with our woodworking programs or connect them with our other services such as occupational therapy, orientation and mobility support or assistive technology advice which can help them be active and engaged at home, school or in the wider community."
Vision Australia also provides a range of specialist paediatric service including occupational therapy, physiotherapy, speech pathology and counselling.
Information on these services and how to access them is available at visionaustralia.org.