24 October 2019
Nadia Mattiazzo is a prominent figure in the Vision Australia and wider blindness and low vision community and is being recognised with a Vision Australia Award for her advocacy efforts.
The awards, first established in 2006, honour those who help to make a substantial difference through their commitment to Vision Australia's mission to ensure people who are blind or have low vision can live the life they choose.
Nadia is currently a member of the Vision Australia Client Reference Group (CRG), holding the Seeing Eye Dogs portfolio.
As a Seeing Eye Dogs client, Nadia brings great insight to issues facing Seeing Eye Dog handlers and other clients to the Vision Australia Board and the rest of the organisation.
During her time on the CRG, Nadia has contributed her time to our research on the impact of electric cars on people who are blind or have low vision, as well assisting with the developments of tools and services such as Ready SET.
Nadia also currently sits on the Maribyrnong Council Disability Advisory Committee and is well known for her advocacy work in her local community.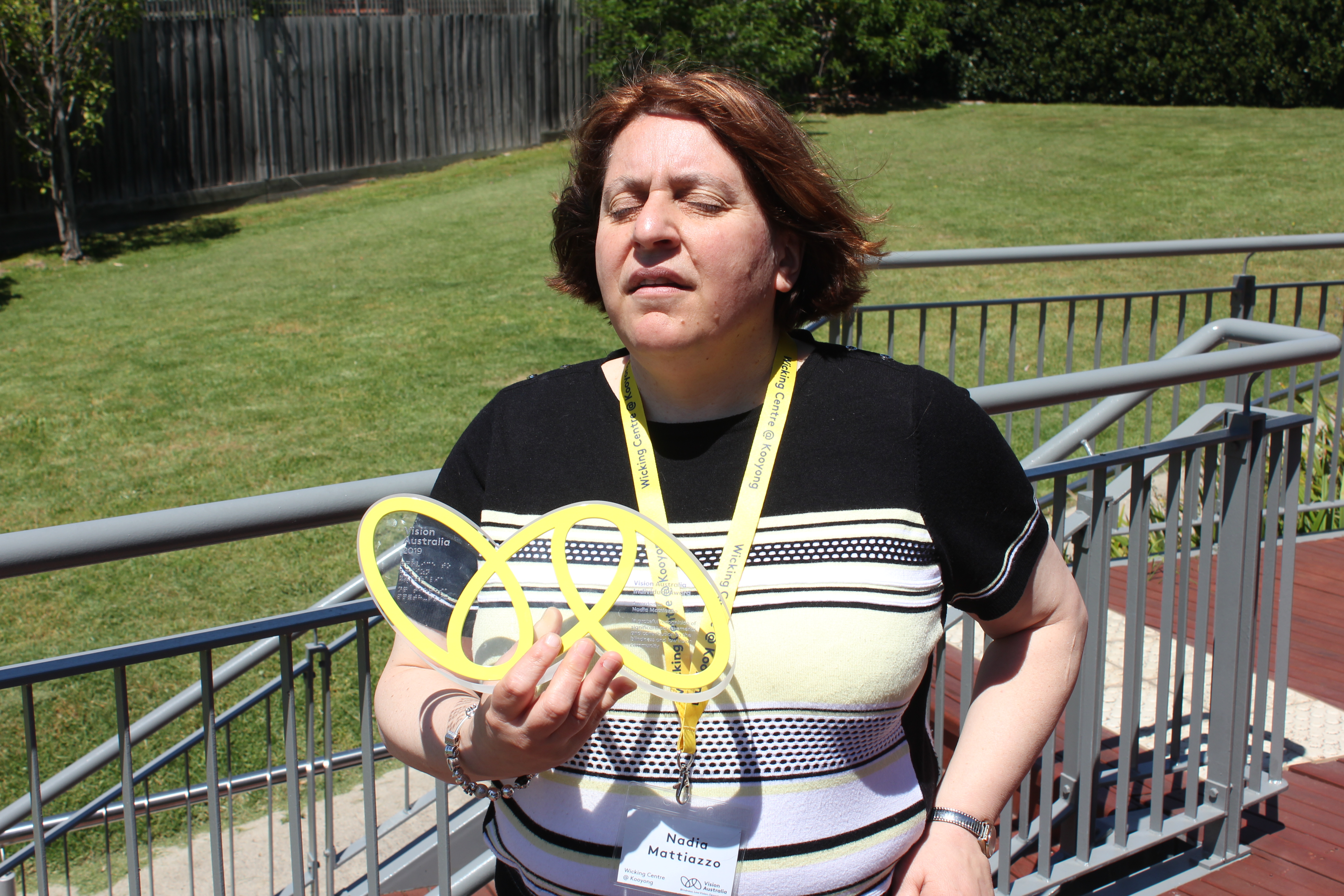 [PD: VA Award winner Nadia, holding her award which takes the shape of the VA logo of 3 yellow ovals linked together.]
Vision Australia CEO Ron Hooton presented the Individual Award to Nadia acknowledging her "remarkable contribution to the blindness and low vision sector, and the disability sector overall."
A very modest Nadia was taken aback, not having been told she was going to receive this award, but hopes her actions can inspire others to stand up for what they need and believe in.
"I'm really appreciative of the fact that other people have learnt from what I've done or taken on board what I've done," Nadia said.
"There's been some amazing advocates in the community before me and there'll be some amazing advocates after me. As long as we advocate for the barriers that we come across, there's hope for the world yet," she said.
Find out more about Nadia's story and her experience with her Seeing Eye Dog Olympia below: