05 August 2019
Kangaroo Flat and South Bendigo under-18 boys football teams will face off once again this weekend to support people who are blind or have low vision.
The Roos and Bloods will play for the 2019 Vision Cup, to raise funds for blindness and low vision service provider Vision Australia.
It is the fourth time the teams are vying for the cup and will be kicking-off at Dower Park in Kangaroo Flat, on Saturday 10 August at 10:30am.
Footy-goers will also have the chance to meet and pat Seeing Eye Dog puppies on the ground at halftime and find out more about the wide range of services Vision Australia offers.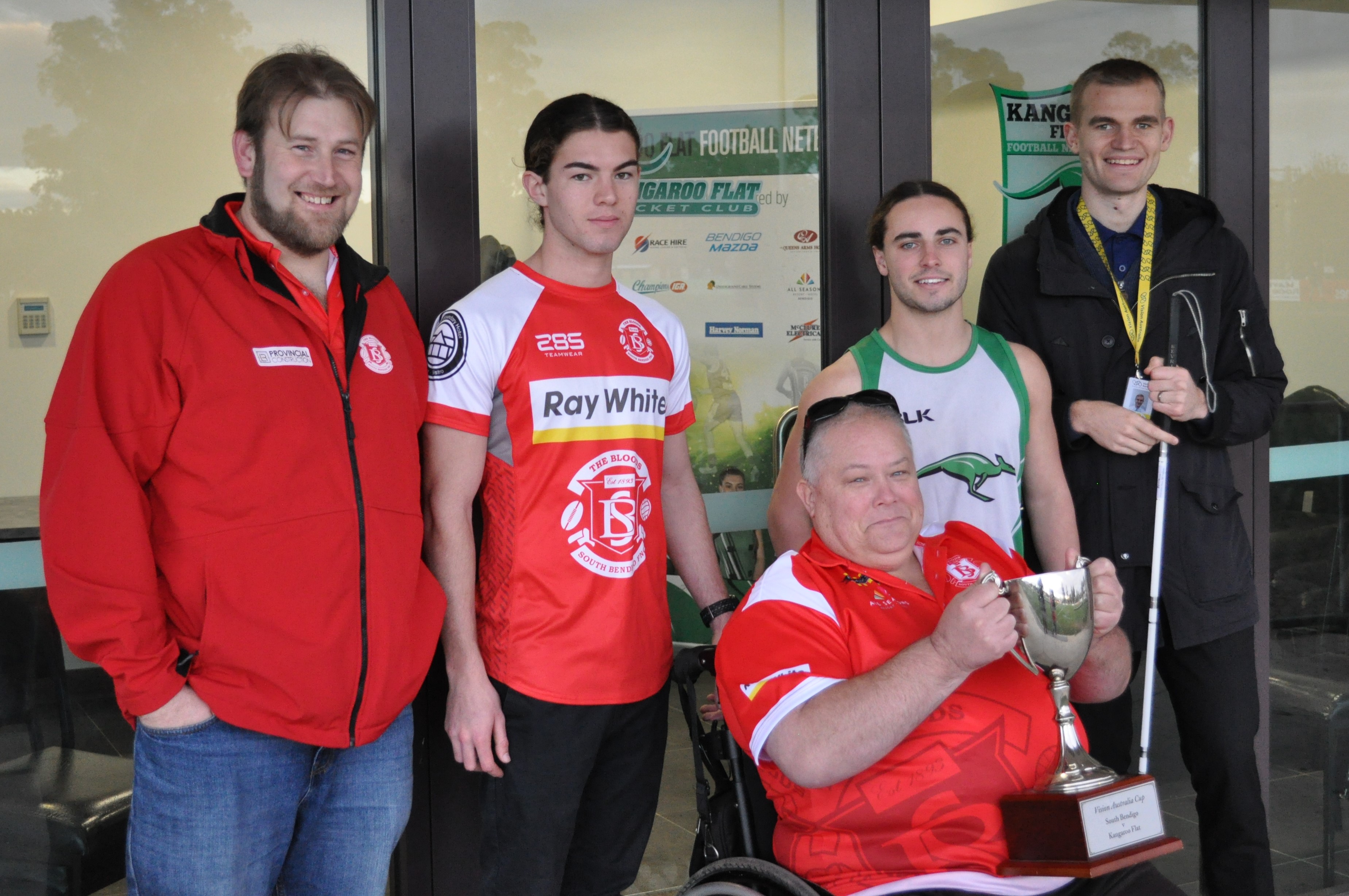 [PD: South Bendigo FC committee member Chris, South Bendigo and Kangaroo Fat U18's captains and VA recreation development worker Jason standing behind Andy Barrett, who is holding the Vision Cup.]
Vision Australia regional business manager Adam English says that not only is the Vision Cup a fun day for families but a chance to support the blind and low vision community.
"We're incredibly thankful to South Bendigo and Kangaroo Flat for their support over the years. It's fantastic when we see the community come together in the spirit of the game to support the services many people who are blind or have low vision rely on."
Andy Barrett is one of those people. A trainer and club life member at South Bendigo and client at Vision Australia, the medal that will be presented on the day for best-on-field is named in his honour.
"People often take every day for granted and don't think about what it would be like to lose your vision.
"Just because I am blind, it still doesn't mean I can't contribute, help others or make a difference."