Whether you have a single file or magnitude of legacy documents, our new document remediation partner can make them accessible for you.
TaggedPDF is Australia's first 100% dedicated PDF tagging service. With a vision to make the world more accessible to everyone, one PDF at a time, their team of dedicated ProTaggers specialise in WCAG 2.0 Level AA compliance.
We spoke with TaggedPDF directors Belinda Vesey-Brown and Jason Hawkins to find out more about their services and the answers to some commonly asked questions.
What is PDF tagging, exactly?
Tagging provides an important layer of information about the contents of a PDF for people who can't see. This layer of information is picked up and read out by screen reader software to help people who are blind navigate and understand the file's contents.
Below is an example of a PDF without tags.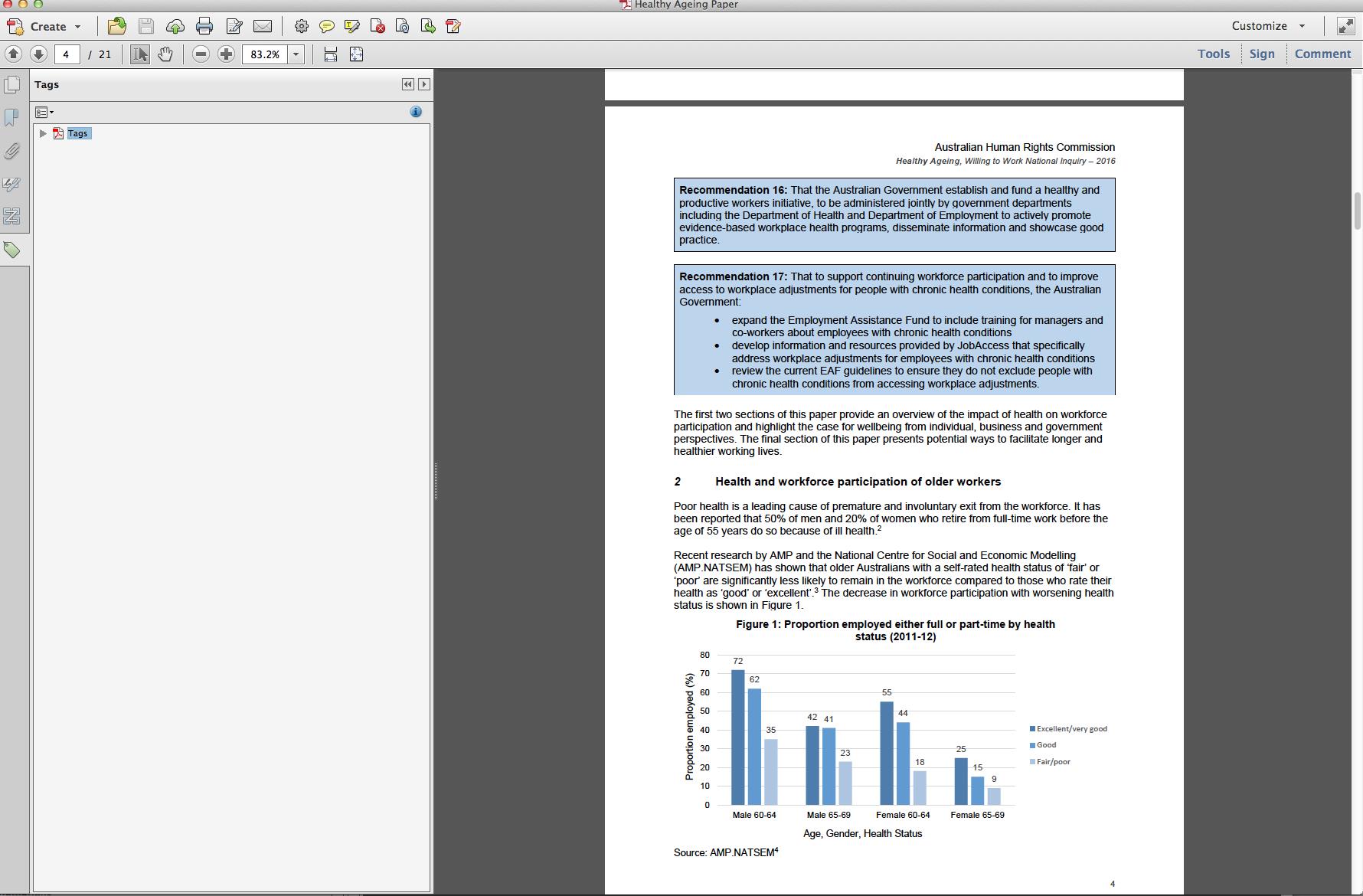 Below is an example of the same PDF with tags. Notice how many tags are in the tag window? This is the important layer of information that will be picked up by screen reader software.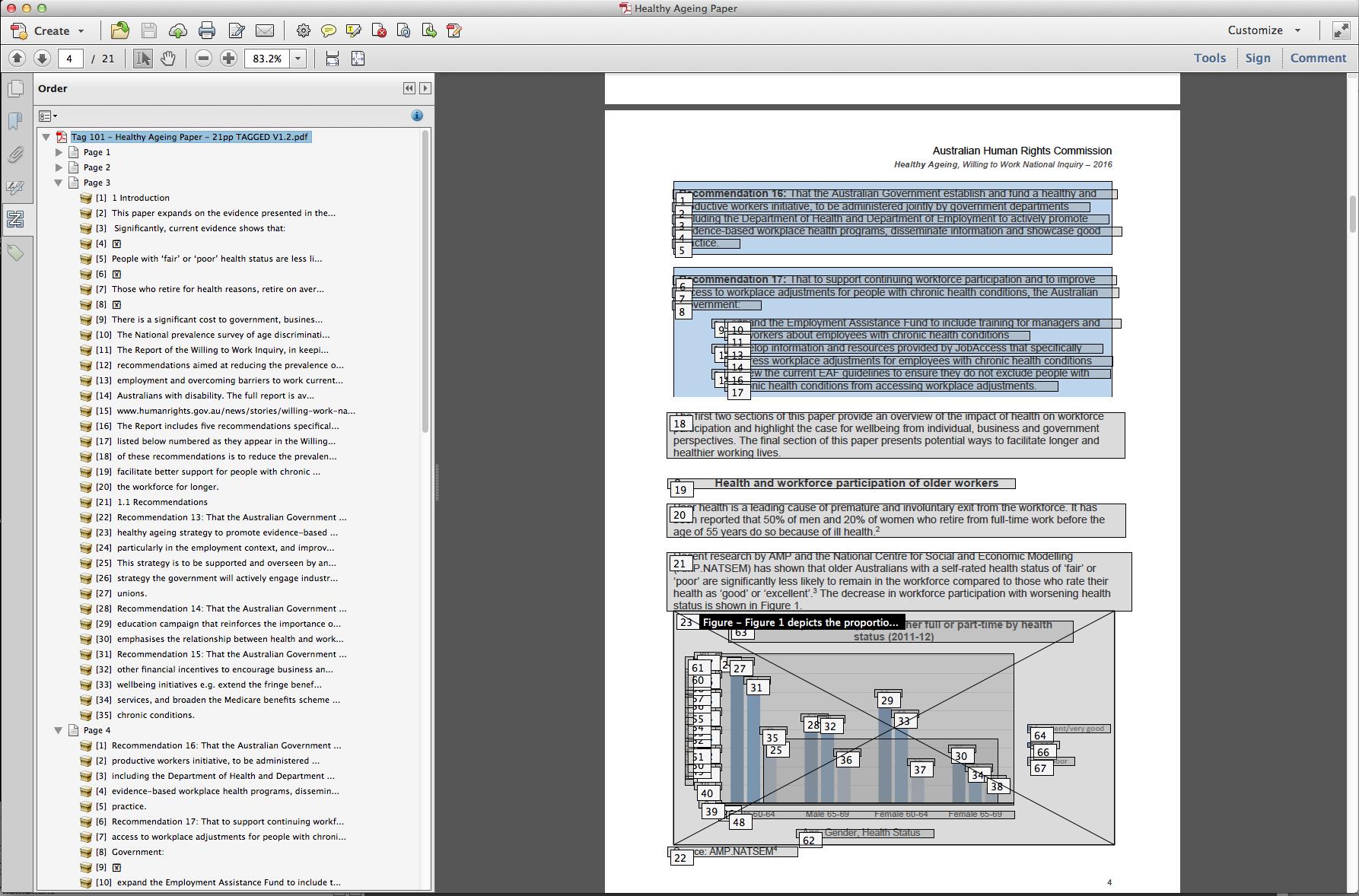 Watch this video, which compares an untagged versus tagged PDF being read by a screen reader.
What inspired your partnership with Digital Access at Vision Australia?
A partnership with Digital Access made perfect sense. They're an internationally renowned accessibility consultancy; they're the leading provider of professional accessibility training in Australia; they've conducted formal studies into PDF accessibility for Australian Government; and they've worked with the World Wide Web Consortium and Adobe on WCAG PDF standards. Plus, they're a not-for-profit organisation that has real-world interactions with people with disabilities every single day. In terms of knowledge sharing alone, they were the obvious choice.
We also complement each other very well. Whereas Digital Access provides services across a wide range of digital assets, such as websites, documents, mobile apps, ATMs and kiosks, our sole focus is document remediation, which means we can provide this service at a lower cost and with faster turnarounds.
Together, we are setting the standards for PDF accessibility best practice. There's a multitude of ways to achieve compliance, but it's the practical insights we gain from our remediation projects and Digital Access' consulting projects that help us discover the best ways to achieve accessibility.
Do you only remediate PDFs or can you remediate Microsoft Word documents as well?
Word documents can definitely be optimised for accessibility. Vision Australia's free Document Accessibility Toolbar (DAT) is a really handy free tool to help you do just that.
If you're planning to convert your accessible Word document to PDF, it's really important to keep in mind that simply clicking the "Save as" function will not result in an accessible PDF.
Give us a call on 1300 255 733 and we'll be more than happy to discuss how we can help with your Word documents.
Will my remediated document be accessible to all disability groups?
We make PDFs accessible to WCAG 2.0 Level AA standards. WCAG 2.0 considers accessibility across all disability groups, including people with visual, auditory, physical, speech, cognitive, and neurological disabilities. It also includes older people with changing abilities due to ageing.
We also use best practice techniques to make sure the document is easier for everyone in the community to read and digest. These techniques are being constantly refined as we discover even better ways to achieve accessibility with every remediation job we complete.
How can I get a quote?
Easy! Visit our pricing page to view our standard rate or submit an online enquiry. Bulk rates are also available.
We encourage you to call us on 1300 255 733 to discuss your needs – we're more than happy to answer your questions and give you personalised recommendations.
How do I prepare my files for remediation?
Each tagging project consists of two components: your PDF files that require the actual tagging, and the alternative text for each non-text element that appears within the PDF files.
To help you prepare your files, visit our resources page to download our tagging guides and templates.
Can you create accessible templates I can use in future?
We want to empower organisations to continuously improve the accessibility of their documents. We can do this by sharing with them what we learned from their remediation project and offering them personalised advice to improve their future templates. We consider this feedback an important part of the service we provide.
How can I be certain the delivered document is completely accessible?
Our team of dedicated ProTaggers specialise in WCAG 2.0 Level AA compliance. Our partnership with Digital Access ensures our ProTaggers are continuously learning from the leading provider of professional accessibility training in Australia, and are subject to rigorous quality assurance and verification processes.
We use a combination of manual, automated and screen reader testing to ensure PDF/UA conformance. We also have ISO 9001 Quality Management Certification.
Contact TaggedPDF today
Our friendly team is ready to answer your document accessibility questions. We encourage you to give us a call on 1300 255 733. Or visit the TaggedPDF website for more information.



Related links
If you're unfamiliar with accessibility standards and legislation, visit Vision Australia's Accessibility Toolkit for a useful introduction.
If you'd like to learn how to create your own accessible Word and PDF documents, and how to optimise conversion from Word to PDF, visit Vision Australia's Creating Accessible Documents training page.