Chief Executive Officer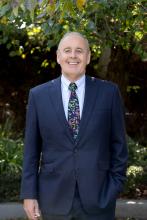 Ron Hooton joined Vision Australia as Chief Executive Officer in January 2013.
Ron was recruited to lead and embark Vision Australia on its transformation from a charity to a "for purpose business".
Since his appointment, Ron has guided Vision Australia through a number of challenges and played a pivotal role in modernising the organisation.
Of note, Ron has led Vision Australia through significant changes to the funding environment for not-for-profit organisations in Australia. Despite significant disruption, Vision Australia has solidified its position as Australia's leading blindness and low vision service provider.
Ron also navigated Vision Australia through the COVID-19 pandemic, with the organisation being a pillar of information and support for the blind and low vision community throughout.
Under Ron's leadership, Vision Australia has also strengthened its position as a leading voice and advocate in the wider disability sector.
Prior to joining Vision Australia, Ron spent seven years as Chief Executive of ProCare Health Limited, New Zealand's largest primary health organisation, prior to which he was the New Zealand Defence Force's first Chief Information Officer. Concurrent with these roles, Ron was a volunteer Director and Chair (2009-2012) of Childfund New Zealand, an international NGO.
Following the start of his career as a specialist in the information and communications technology (ICT) sector, Ron has gained experience in a range of diverse industries including banking, financial services, telecommunications, defence, health, and most recently, disability. Ron maintains his expertise and strong links to the ICT sector.
Ron holds a Masters in Business Administration (with Distinction) from Massey University (NZ) and qualifications as an Executive Coach.