Using technology
There is a wide range of technologies and tools available to assist people who are blind or have low vision.
Whether you wish to use a computer, phone or mobile device, access materials in print or become more efficient at work, school or university – there is a piece of technology available that can help.
Looking for advice or training?
The Vision Australia Access Technology (AT) team is here to support you to explore and choose the technology that works best for you. Visit our technology advice page to find out more about how technology can assist you in the home, at work or at school or university.
Or visit our technology training page to organise some personal training with one of our team, to see what courses are available in your area or to access our online training resources.
Stay up to date
Help me now!
Our AT Helpdesk team are available Monday to Friday between the hours of 9:00am and 5:00pm (Eastern Standard Time) to troubleshoot your accessible technology issues.

Give them a call on 1300 84 74 66 (and ask for the AT Helpdesk), or send an email at [email protected]
Getting your hands on the technology
Browse our online shop for a large range of technology essentials. For information around the funding options available please visit our technology funding options page.
Braille technology opens up a world of content
After being born with glaucoma, Katie underwent surgery at the age of 17 in an attempt to stop her vision deteriorating further, however complications from that surgery resulted in Katie losing her vision.
An avid reader who had used large print books prior to losing her sight, Katie took up Braille after losing her sight and proved to be a quick learner.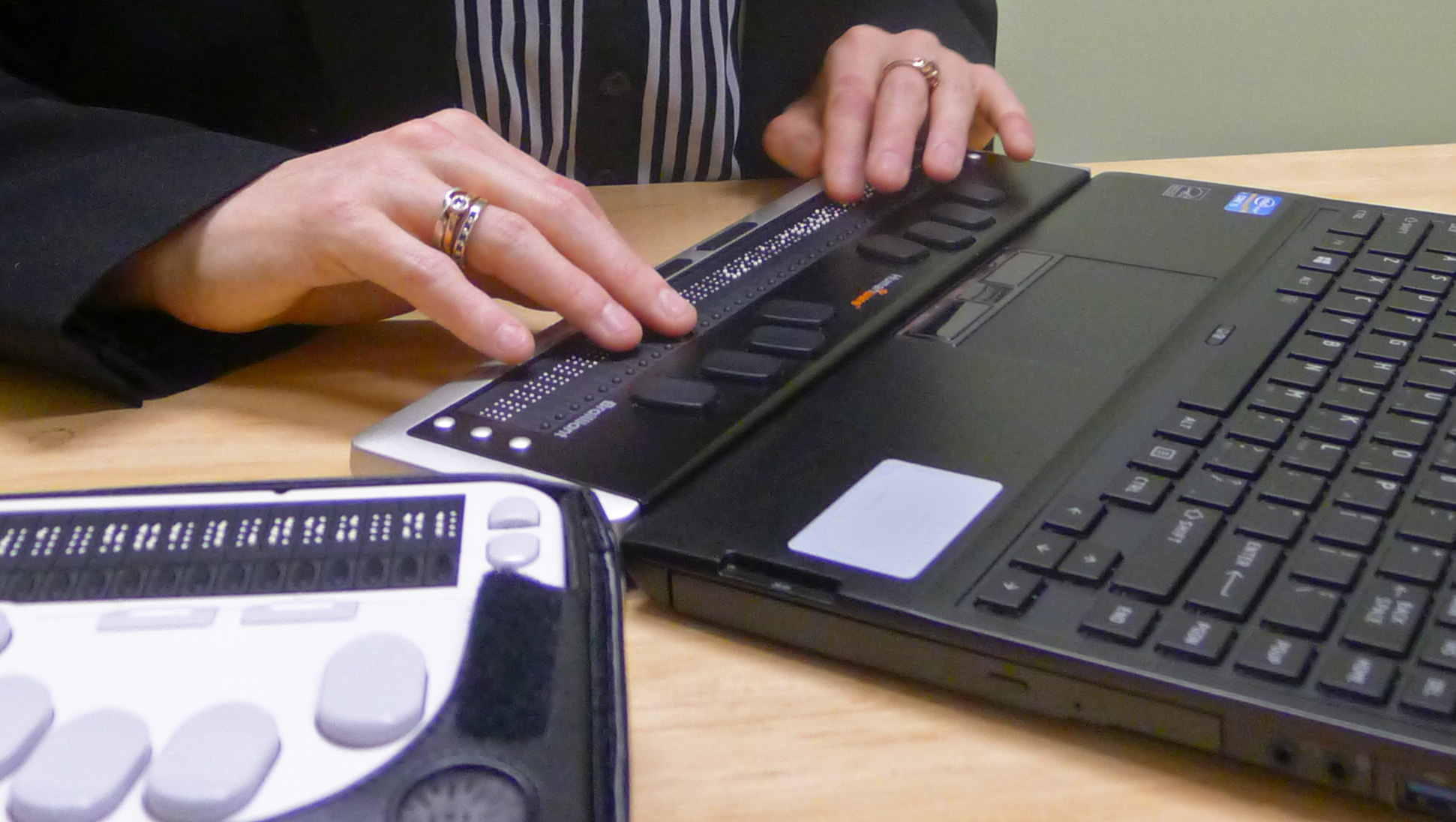 Contact us
Contact us early and get the support you need. For more information on Vision Australia's services call our helpline on 1300 84 74 66 or email [email protected].
Technology advice
Whether in the workplace, school, university or at home there are many solutions available that can minimise or eradicate the barriers people who are blind or have low vision face.
Vision Australia's Access Technology team can provide you with advice and support in all areas of access technology, including (but not limited to):
General information and advice on access technology products, e.g. demonstrations of the latest technology
Individual access technology consultation and assessment with impartial advice on the range of options available and recommendations regarding the best solution to meet each client's needs at work, school or in the home
Technical support services (i.e. assistance with installation, setup and troubleshooting technical difficulties) for specific access technology products
Equipment and software training and support. Visit our technology training page to find out more.
To find further information around how technology and Vision Australia can assist you, visit one of the following pages:
Interested in the service?
Contact the AT Helpdesk
Phone: 1300 84 74 66
Email: [email protected]
Spread the word
Follow Vision Australia's Facebook page for interesting tech updates or retweet us from Vision Australia's Twitter page.