22 March 2018
Ever wanted to have your artwork featured in our calendar?  Well now's your chance.
Vision Australia is calling for works from artists who are blind or have low vision to feature in our 2019 large print calendar.
At Vision Australia we support people who are blind or have low vision to live the life they choose – and that includes creating great works of art!
To enter this competition you must have produced a piece of artwork over the last 12 months. The artwork should preferably be a painting or drawing (not an object), appropriate to be featured in a decorative calendar.
The chosen pieces of artwork to feature in the calendar will be accompanied by a profile of the artist. This profile will also be shared with local newspapers, providing a great opportunity to raise the profile of Vision Australia.
Importantly, our beautiful large print calendar also raises much needed funds that enable Vision Australia to continue to deliver support services across the nation.
So if you are or someone you know has some beautifully produced artwork that would look great in a calendar, then we encourage you to submit your entry now. 
The 13 successful entries will each receive a gift card to the value of $300
Image below – 'Two Blue Jugs' by Kerry Frost, as featured on the cover of the 2018 large print calendar.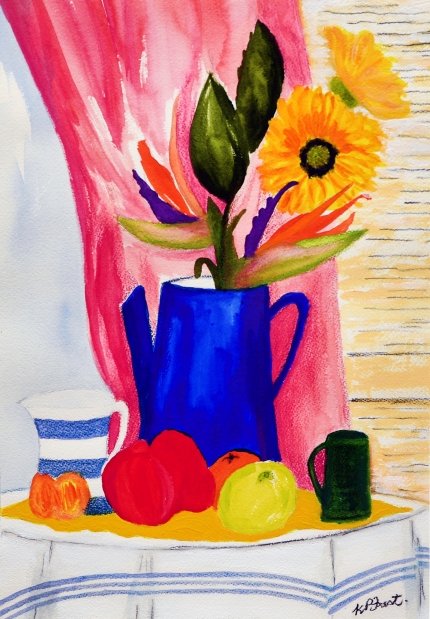 How to enter:
1.    Download a copy of the entry form here 
2.    Email your completed entry form, along with digital images of your artwork to: artworkcompetition@visionaustralia.org 
OR
3.    Mail a copy of your entry form along with photos of your work to:
Phoebe Lescun
Retail Marketing Advisor 
Vision Australia
454 Glenferrie Road, 
Kooyong VIC 3144
Entries Close 4th May
*Terms and conditions outlined on the entry form.