We are excited to introduce Vision Australia's new series of children's books called Big Visions. Australia's first commercially sold book in braille.  
The book is available for pre-order here.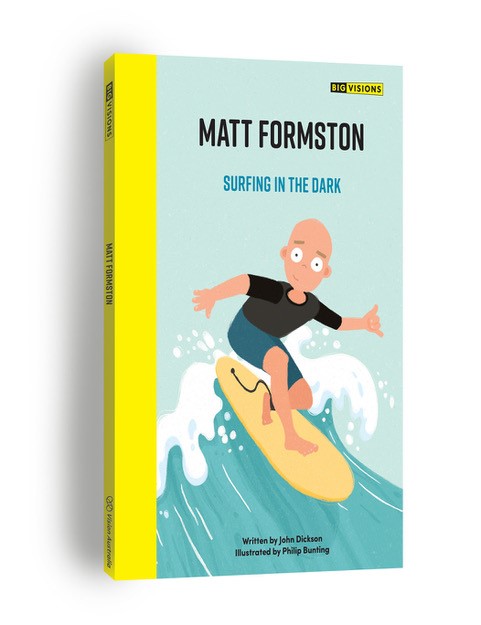 The ground-breaking series depicts everyday low vision and blind Australians living well and chasing their dreams. These important new role models are the first step towards changing the kids Vision Australia works with and Australia's expectations of just how much a child with low vision or blindness can achieve. 
Vision Australia's ambition is to use these true, unexpected stories of true resilience, true diversity and inclusion with the ambition of together building a kinder and more accepting Australia through the stories we read and tell. 
About Surfing in the Dark
Matt Formston is a world champion surfer who is blind. 
Meet Matt and hear his amazing story of resilience as he follows his dreams no matter the obstacles. 
Matt always dreamt of becoming a professional surfer, but by the time he was five years old he was almost completely blind. Matt never let that stop him and now he is a record-holding Paralympian and a world champion surfer. 
What people are saying about Surfing in the Dark
From Books and Publishing Review, Jan 2023 
"...Formston's successes, and failures, can inspire and empower all people and this necessary and worthy ook is the first in what is sure to become a ground-breaking and vital series for all ages." 
From Ron Hooton, CEO Vision Australia 
"Just imagine what it will mean to blind or low vision kids or children with any type of disability to see themselves in these stories of hope and triumph - to be the hero in books that are for all readers." 
The future of Big Visions
Future entries in the Big Vision series planned for 2023 will focus on chef Craig Shanahan, and fashion designer Nikki Hind, both of whom live with low vision.
"This series of wonderful books is a great way for us to spread the message and help future generations throw off the misconceptions and expectations placed on them by society" continues Ron.
To find out more about Big Visions, click here.
Look out for stories about Big Visions across all social media platforms via the hashtags #ReadItToBelieveIt, #BigVisions, #LifeReady and #VisionAustralia
Matt Formston has been an Ambassador for Vision Australia for many years now, so to be able to share his story in the first Big Visions book is truly special for all of us here at Vision Australia.
To learn more about Matt Formston, please watch this video where he explains his story in his own words.