24 July 2019
A group of teenaged Vision Australia clients recently received some first-hand insight into life as a politician.
Thanks to New South Wales Minister for Families, Communities and Disability Services Gareth Ward, five Vision Australia clients aged 13-17, received a special tour of NSW Parliament House last week.
Legally blind, Mr Ward has served as the Member for Kiama since 2011 and following the 2019 NSW state election became the first person with a disability to hold his ministerial portfolio.
During the tour, Mr Ward gave the group a comprehensive overview of the history of the NSW State Government and also the history of Parliament House itself.
The group had the chance to sit in both the Legislative Assembly and the Legislative Council as Mr Ward explained the ins and outs of how the two houses of Parliament operate.
Following the tour, the group sat down with Mr Ward in his Ministerial office over lunch to ask him a range of questions about his experience in politics and also general questions about living and achieving your goals as a person who is blind or has low vision. They wanted to know where he went to university, why he chose those degrees (he has more than one), what was his first job, what does he like about his current role, and what advice would he offer his 17 year-old self?
Mr Ward stressed to the group that they should be "bold and brave" about what they want to achieve so they're never left wondering if there's something they could've done in their lives.
Mr Ward also touched on the importance of technology when it comes to education and employment opportunities for people who are blind or have low vision, describing how an iPad supports him to deliver speeches.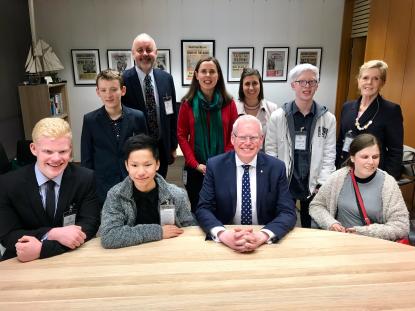 Natalie Kaine, Vision Australia paediatric occupational therapist, said the tour was a special opportunity for the participants.
"Having somebody like Gareth in a senior government position is a great example for our clients that living with blindness or low vision is no barrier to achieving their goals, whether that's around their career or anything else," Natalie said.
"Being able to speak to Gareth and learn about his experiences definitely had a benefit for the group. Hearing firsthand from somebody who is blind or has low vision about how they approached both challenges and opportunities is invaluable and Gareth left them with some great advice about how they can help to put themselves in positions to achieve," she said.
"Straight after the tour the group were already talking about how they could put that advice into action and pursue opportunities they hadn't considered before. Exploring lots of different workplaces and learning about all the roles people do for work and careers in those environments is extremely important for children and young people with blindness or low vision. It helps them make informed choices and decisions about what they want to pursue when they finish high school."
Natalie said she and her colleagues from Vision Australia are extremely grateful to Mr Ward and his staff for their generosity and taking the time to make the experience possible.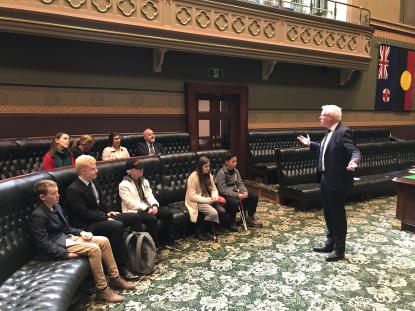 Find out more about the specialist services Vision Australia can provide to children and young people who are blind or have low vision here.