Details
Date 17 Jan 2019
Time 17:00 PM
Contact
Address City Recital Hall 2 Angel Place, Sydney , New South Wales
Phone 02 8256 2222
Overview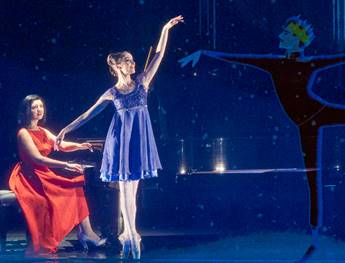 Audio described Saturday 17 January
City Recital Hall 2 Angel Place Sydney
Box Office 8256 2222
Performer and Producer: Alexandra Dariescu
Director: Nick Hillel
Ballerina: Désirée Ballantyne
Duration: 50 minutes no interval
Strict lockout applies. Latecomers will not be permitted entry.
Renowned Romanian pianist Alexandra Dariescu's reimagining of Tchaikovsky's enchanting Christmas tale merges piano, ballet and state-of-the-art digital animations in a trailblazing 50 minute multimedia treat for all ages.
Behind a see-through gauze screen, Dariescu is at the grand piano playing 15 virtuosic score movements as ballerina Désirée Ballantyne dances in sync with digitally projected characters, created using more than 35,000 hand drawn images.
Beneath fairy dust and swirling snow, this is an uncommonly faithful retelling of Clara's magical journey from Christmas Eve to the Kingdom of the Sweets and the Sugar Plum Fairy. Innovatively, it also follows Dariescu's story of a little girl dreaming and working hard to become a concert pianist.
Featuring arrangements of Nutcracker favourites by Percy Grainger, Mikhail Pletnev and Stepan Esipoff, with three new adaptions by Gavin Sutherland, artistic director of the English National Ballet, this magical retelling inspires new and established fans of Tchaikovsky's classic work.