Details
Date 16 Jan 2019
Time 13:30 PM
Contact
Address Drama Theatre – Sydney Opera House, Sydney , New South Wales
Phone 02 9250 7777
Overview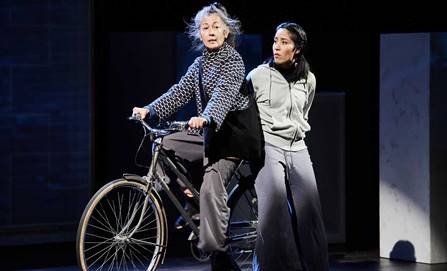 Audio described Wednesday 16 January 1.30pm
Drama Theatre – Sydney Opera House
Box Office 9250 7777
Companion Cards accepted - please mention Audio Description when booking
Author: Gabrielle Wang
Playwright: Vanessa Bates
Co-Directors: Ching Ching Ho and Matt Edgerton
Cast includes: Alice Keohavong, Amanda Ma, UYilin Kong, Frieda Lee and Imanuel Dado
Duration: Approximately 75 minutes no interval
Content Warning: Recommended for 8+. This performance contains smoke, haze and strobe lighting. Short lockout applies. Latecomers will be permitted at an appropriate time.
The Australian novel A Ghost in My Suitcase presents rich material for adaptation, with three incredible female characters at its heart.
The story follows twelve-year-old Celeste, an Australian girl with Chinese and French heritage. She is visiting China for the first time to scatter her mother's ashes, but from the moment she arrives she is thrust into a terrifying world of ghost hunting. To survive she must discover who she truly is.