Paisley has started Prep. I repeat, Paisley has started Prep.

After months of anticipation, with a lot of sleepless nights and anxiety, my little girl has entered 'big girl' school. She has begun her education journey and has welcomed it with open arms.
We are one month into our new lifestyle and there have been relatively few hiccups.

Lunch is made in the morning, breakfast is devoured, she gets ready and by 8:20am we are out of the house like clockwork.

Paisley has made new friends, come out of her shell, and has something new to tell me every afternoon. "Mum, do you know that plants are alive? I'm alive, but I'm not a plant." See, my little scholar.
The apprehension and anxiety that I felt in the lead up to Prep was warranted but unnecessary.

The reason why Paisley has transitioned so well into school and loves it so much is because of her teacher, Miss Teys.

She is amazing. Nothing I imagined, yet everything I hoped for in a teacher.

Miss Teys is very hands on with Paisley's eye condition. She has allocated Paisley a seat closer to the board so she is out of the glare and has enlarged the font. Miss Teys also lets Paisley view larger images on an ipad and use a slope board. These little modifications are music to my ears as I know that she is doing everything in her power to alleviate the stress from Paisley's tired eyes.
Prep is so important to Paisley that not even having her two very stubborn baby teeth removed could stop her from missing school. After a drink of water, some painkillers and something to eat, she was ready to go again. All be it two hour's late, but she made it to school nonetheless.
Let's hope this attitude towards school lasts long into her teenage years.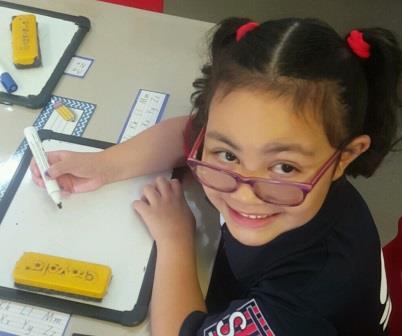 Caption: Paisley sits at her desk writing on a white board.