The following information is aimed to help people who are blind or have low vision find a suitable mobile phone, including 'smart' phones.
We encourage you to shop around and try before you buy. Most dealers have demonstration phones to try out in the shop. Make sure you have an opportunity to try out the various phones to find the one that is easiest for you to use.
Features to look out for when choosing a mobile phone
Below is a list of features to look out for in phones available from the various mobile phone dealers which will make them easier to use for some who is blind or has low vision.
Keypad buttons
Buttons that make a noise when pressed.
Buttons that are large and can be felt individually. Look for buttons that are large, well-spaced and are raised, i.e. not flush with the surface. A tactile marker on the number 5 button is also helpful.
Buttons that light up to enhance contrast.
People with low vision will benefit from buttons with good contrast and clear print.
Screen
Most screens are colour these days. They allow you to adjust the brightness and other display settings like colour schemes to improve contrast.
Large print fonts are available in some phones.
Dialing and memory
Speed dials are where commonly used telephone numbers can be programmed into the number pad of the phone so that dialing can take place with one or two button presses.
Voice dialing is where the phone recognises the person's name when you say it (and automatically rings the number from your contacts list).
A phone that speaks back to you when you select a number from the "Contacts" list. Most phones will not speak back the number being dialed, but some can speak the person's name as well as other prompts.
Other helpful features
Not too small to hold or to find in your bag.
Size of the screen is not important for a person who is blind, but size of the print and clarity is important for a person with low vision.
Does not turn on accidentally. Look for a keypad lock or a lid that flips over to protect the keys.
Ease of answering and hanging up. A flip cover that opens to answer and closes to hang up is easiest, or an obvious button to press with a sound signal. On some phones any button (except the button to hang up) can be pressed to answer a call.
Service providers, or carriers
A decision will need to be made whether to use a prepaid card system or to be billed. The carriers have various options about the cost of calls. Some mobile phones come free of charge with some contracts; otherwise the phone of your choice can be purchased upfront.
Accessible mobile phones and smartphones
Apple iPhone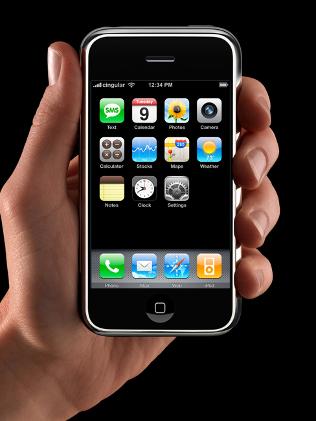 The Apple iPhone 3GS (and later models) is a touch screen (3G) mobile phone with a built in screen reader (called VoiceOver) and screen magnifier (called Zoom). It allows a person who is blind or has low vision to use the phone without purchasing extra software to independently use the functions of the phone.
By using special finger gestures on the touch screen, you can fully access all functions and applications of the phone including contacts, dialing, SMS, voice mail, and applications such as the inbuilt iPod, calendar, web browser (Safari), and email (mail).
As this is an alternative method of using a mobile phone (touch screen verses physical keypad), it does take practice and some time to get used to. But once a person is used to this method of access, it is straightforward. Vision Australia's AT Podcasts provide great instructions that you can listen to to get you up to speed with this technology.
VoiceOver supports Bluetooth refreshable braille displays for navigation and data entry (on those devices which have an input keyboard which is supported). Bluetooth QWERTY keyboards are also supported for navigation and data entry.
Note - it is not possible to use VoiceOver and Zoom at the same time on the iPhone 3GS, 4 and 4s. iPhone 5 allows VoiceOver and Zoom to be used at the same time..
The iPhone can be bought outright or can be purchased on a plan from most mobile carriers.
For more information on the accessibility of the iPhone, go to: apple.com/accessibility
Android Phones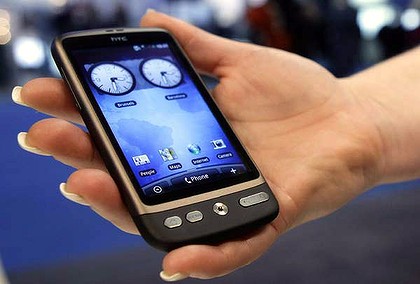 Android is Google's popular operating system shipped on a wide range of mobile phones. Unlike the iPhone, where all phones include the same operating system, Android phones are sold with varying versions of its operating system.
It is recommended that you obtain an Android phone with at least Android version 2.1 or above and a physical trackpad or track ball. In addition, it helps if the phone has physical buttons for Home, Menu, Back, and Search.
The default free screen reader in Android is Talkback (which may not be installed on the phone when you purchase it but is available from the Android market place). There are a number of other screen readers (such as Spiel, also free, and Mobile Accessibility which costs around $94) that can be downloaded from the Android Market.
Jelly Bean is the name given to the latest version (version 4.1) of the Android operating system for smart phones. This makes it now possible to use the touch screen with a new feature in Talkback that is called Explore by Touch. As the name implies, this feature allows you to hear what is on the screen as you drag around your finger. To activate an item, take your finger off the screen and tap again in the exact spot.
Mobile Accessibility offers a suite of applications to make it easier and more accessible to use a number of the Android phone's functions such as contacts, dialing, SMS, calendar, and web browsing. In addition, Mobile Accessibility allows the use of the touch screen for navigation within its own suite of applications. Mobile Accessibility includes a screen reader component that provides speech output for 3rd party applications. Both Mobile Accessibility and Talkback provide access to the on screen keyboard to allow entering of text.
When using Android applications, Mobile Accessibility, Talkback, and Spiel use the physical trackpad or trackball for navigation.
None of the screen reading programs support refreshable Braille displays.
Screen magnification is only supported on Android devices with Jelly Bean. Contrast settings and font size are all adjustable and can be helpful if you have low vision.
For more information on Android accessibility options, go to: www.androidaccess.net
Android phones can be purchased from most phone retailers.
Big button mobile phones
Often referred to as "Seniors' mobile phones," there are a range of mobile phones with a simple design and big buttons and display that makes them easier to see and use.
They do not tend to come with all the bells and whistles commonly found in smart phones. They just have basic functions like making and receiving calls and text messages and listing your contacts. They also tend to have features to suit people who might be hard of hearing as well as an emergency call switch.
These phones can often be purchased outright (no plans) from various suppliers.
Screen reading and screen magnification software for mobile phones
TALKS/ Zooms
Talks (screen reader) and Zoom (screen magnification) can be purchased for Symbian series 60 3rd and 5th addition mobile phones: mainly Nokia phones. The only model Nokia mobile phone with a physical keypad that works with Talks is the C5 model.
Unfortunately, Zoom is not supported on the newer Symbian 3 phones.
Talks and Zooms work on both supported phones that have a physical keyboard or a touch screen. The software gives access to contacts, dialing, text messaging, web browsing and other functions.
Bluetooth refreshable Braille displays are supported.
Demonstration software of Talks and Zooms is available so that you can trial how it works on your mobile phone.
For more information on Talks and Zooms, go to: http://www.nuance.com/talks.
Talks can be purchased from Vision Australia Equipment Solutions.
Mobile Speak/Mobile magnifier
Mobile Speak (screen reading) and Mobile Magnifier (screen magnification) can each be purchased for Symbian series 60 3rd and 5th edition mobile phones: mainly Nokia phones.
Mobile Speak and Mobile Magnifier work on both supported phones that have a physical keyboard or a touch screen.
The software gives access to contacts, dialing, text messaging, web browsing and other functions.
Mobile Speak and Mobile Magnifier can be used independently or together.
Bluetooth refreshable Braille displays are supported.
Demonstration software is available for each of these applications so that you can trial how it works on your mobile phone.
For more information on Mobile Speak or Mobile Magnifier, go to: http://www.codefactory.es/en
Mobile Speak or Mobile Magnifier can be purchased from Optek Systems http://www.opteksystems.com.au
Contact us
Contact us early and get the support you need. For more information on Vision Australia's services call our helpline on 1300 84 74 66 or email [email protected]. You can also connect with our services here.