Audio labellers
A range of scanning technology is now available to enable people who are blind or have low vision to easily identify items and products around them. Of course, there is always the option of using braille, bumpy stickers or Velcro, but these newer technologies offer more possibilities that improve independence.
PENfriend
The PENfriend 2 is a lower cost alternatives to the talking bar code scanner that use optical technology to store recorded information onto a small sticky label ranging from the size of about a 5 cent to a 20 cent piece.
Unlike the IDmate talking bar code scanner, the PENfriend relies on you recording the information in the first instance and only one message can be recorded per label. It stores up to 70 hours' worth of information in total.
For more information, visit the online shop.
Apps for scanning products
There are a number of apps that you can download if you have an iPhone or iPad or iPod Touch. Some of these apps are a bit hit and miss. Some are not accessible and some are not developed for the Australian market and so there are likely to be inaccuracies with the information provided.
For a list of these, visit the Adaptive Technology Podcasts page
Talking barcode scanner
The IDmate Galaxy is a talking barcode scanner that enables people to identify household items using the existing barcode on the packaging. It also comes with 1,000 extra sticky barcode labels that you can use to identify a range of items from bills to train timetables as well as iron-on labels to identify clothing.
Simply record whatever you wish to name the item and the IDmate stores that information to that particular barcode.
In addition, the IDmate comes stored with the over 2 million products so you can scan the barcode of a grocery item, DVD or health product and it will give you the name of that product along with additional information about it. You can then record more information to that barcode for future reference like a favourite recipe.
Funding grants are available to people who are unable to afford this product. For more information visit the Visual Independence website.
This product is available from:
Colour detector
Colour detectors are hand held devices that tell you the colour of whatever item you are pointing it at. They can be used to identify the colour of your clothing; files or paper in the office; balls of wool or the colour of food items.
There are currently two types of colour identifiers available:
ColorTest
The ColorTest is highly accurate and provides detailed descriptions of colours, for example "Olive green with shades of blue". It even breaks down the colour to percentage of luminosity, hue and saturation.
The ColorTest must be purchased directly from Austria from CareTec and is priced at more than AUD$1000.
ColorDetector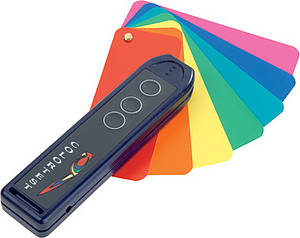 It is not as accurate as the ColorTest described above when it comes to identifying very dark colours like distinguishing between dark navy blue and black. However, it does provide basic descriptions of colours such as "very light blue" or "olive green". It is priced at around $250.
Visit our Audible light sensor - light probe
How it works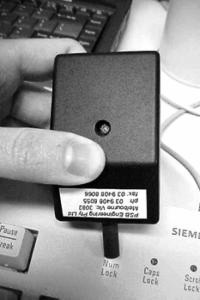 The light sensor sticks out from the unit so that it can be placed over small LED lights on appliances to let you know whether the appliance is on or off, whether the line is busy or on hold on a telephone Command system.

A small button below the sensor is pressed to activate the light probe and a tone is emitted. A high-pitched tone means the light is on, while a low-pitched tone is means the light is off.

For detecting which is the printed side on a piece of paper, run the sensor against the full length of the page. A constant tone means a blank page, while a wavering tone indicates there is print on the page. This can take a while to get used to.

The Audible Light Sensor is also able to distinguish between different coloured light indicators. These types of indicators, called LED's (Light Emitting Diodes), are used on most modern electronic equipment and come in a variety of colours. The most common colours used are green, yellow and red. Different tones/volumes emitted by the device correspond to different LED colours, with the tone/volume going down in the following order - red, green and then yellow.

Another practical use for the Audible Light Sensor is that it can be used to test TV, VCR and stereo/Hi Fi remote control units. The unit will pick up the invisible infrared light they emit. To do this, simply point the tip of the Audible Light Sensor Tip directly into the end of the remote control, press and hold the ON/Off button on the device whilst at the same time pressing one of the buttons on the remote control.

You should hear a tone being produced by the Audible Light Sensor each time a remote button is pressed. This is also a good way of testing battery life in your remote.