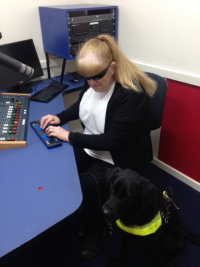 Vicki Couzens is making Vision Australia Radio history with her weekly show broadcast from our Adelaide studios at 6.30pm (ACST) each Saturday.
Every week, Vicki presents readings from the Australian Geographic Magazine. Vicki reads all the content from her braille copy of the magazine, in what is a Vision Australia Radio first.
Vicki joined Vision Australia Radio in July 2019 and is thrilled to attend the station on a weekly basis to pre-record her Australian Geographic program. Vicki's show is a new one for Vision Australia Radio in Adelaide and brings a fresh new genre to our programming.
Vicki enjoys listening to the variety of programs on Vision Australia Radio as she is constantly learning things about the world around us. It also inspired her to approach the station and offer her services as a volunteer.
"As I love reading out loud, it seemed this could be the next step," Vicki said. It also provides her dog guide Bella with some new experiences, and Bella has settled in well to her new environment at the radio station.
"Vicki and Bella are a very welcome addition to the wonderful group of volunteers in Adelaide," Vision Australia Radio Adelaide co-ordinator of volunteers, Lou Williamson, said.
For Vicki, volunteering at Vision Australia Radio in Adelaide and reading on air is just another chance for her to continue working with braille, a format that she loves.
"Throughout school I loved reading and learning, so it seemed very appropriate to get my first job working in the Royal Society for the Blind (RSB) SA braille library. I issued and returned borrowers' material, as well as proof read new titles," Vicki said.
Vicki later worked as a braille transcriber for the RSB Print Alternatives program, enabling university students who are blind or have low vision to access material for their courses.
Image
Summary
A radio A-team bringing a fresh new genre to our programming.