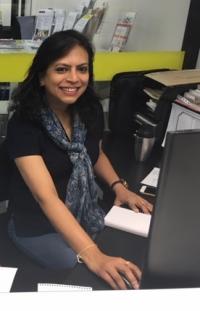 Since joining Vision Australia last year, Usha has embraced every challenge thrown in her direction. Usha is known for her combination of good fun and focused dedication.
Usha has international workplace experience and has enjoyed a mix of Asian cultures. She is originally from India and has worked extensively in Singapore. She says moving to Sydney was like a rebirth. "I realised I was still open to learning: I learned to drive which was pretty adventurous for me as a person who doesn't like to take risks," Usha said.
Usha explains that she became a volunteer with Vision Australia by a lucky accident. "I was looking for service-related roles and hadn't really considered volunteering. Volunteering is not a significant part of the culture I'd been part of. But I saw the volunteer role at Vision Australia and it was love at first sight," she said.
"I visited Vision Australia in Epping and felt very comfortable talking to the team. Service came easily to me and I jumped at the chance of making a difference in someone's life. It was something I had always wanted to do but never had the chance".
Usha's skills and experience have equipped her for a range of roles engaging with people. "I do a few different things. One of the major ones is reaching out to people who have disengaged from Vision Australia. I try to re-engage them by letting them know about services, events and locations where Vision Australia has opened an office."
I don't like the idea of people limiting their possibilities when they don't have to. An additional volunteer role I've started involves me reaching out to culturally and linguistically diverse communities to ensure people from those communities know they can get the support they need."
Being an outgoing person, the social aspects of her role appeal to Usha. "I get to meet a lot of people and I have learned about the local community. I also like that I can have completely pure motivations. My efforts are all about working for the optimal outcome for people. I can focus on what is truly of benefit to people with no vested interest."
Image
Summary
A volunteer connecting with her local community.