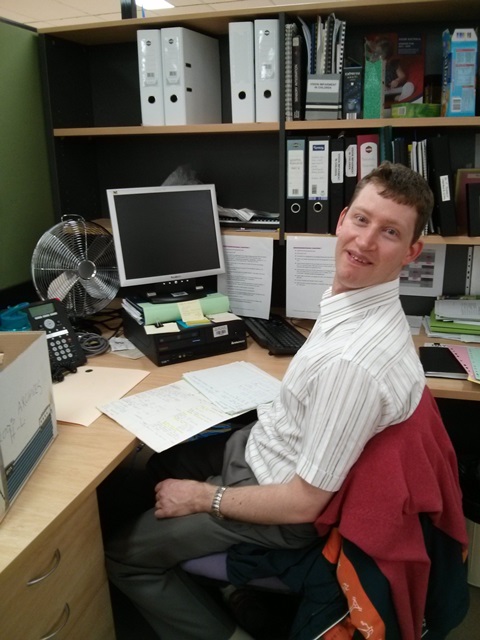 Paul McIntosh is an Administration Support Volunteer who began his volunteering journey with Vision Australia over twelve years ago.
During his time as a volunteer, Paul has seen many organisational changes. For instance, when he commenced as a volunteer, Paul was located at the then Mitcham office and the organisation was known as the Vision Australia Foundation. Since that time, Paul has worked at three offices and been overseen by three Coordinators of Volunteers. Paul currently volunteers on a weekly basis at the Ringwood office, overseen by Coordinator of Volunteers Rebecca Hobson.
Paul's main role at Ringwood has been to assist with entering the statistics for the Ringwood Volunteer Program. Rebecca explained that this helps her immensely with her role as she knows when Paul is in, the stats are sorted!
Ringwood's Regional Business Manager, Paul Warwick, says the team always looks forward to Paul coming in, as they love his great sense of humour and his ability to make the staff have a good laugh.
When he isn't volunteering, one of Paul's passions is travelling. Paul has visited Borneo, Canada, France, Italy, Japan, Malaysia, New Zealand and Spain. Paul hopes to travel to Hawaii in 2020.
Paul also enjoys an active social life, participating in a 'dining out club', lawn bowls, ten pin bowling, attending live concerts and the theatre.
Paul says that he loves the companionship that the Ringwood office provides him. He believes it is a fun working environment and he feels it is nice to be able to give something back.
To find out more about Vision Australia volunteer opportunities please click here.
Image
Summary
Meet a valued member of the Ringwood team with a great sense of humour.