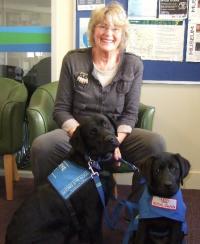 Jeni joined the volunteer Puppy Carer team at Seeing Eye Dogs in Kensington in 2002. She explains her motivations. "When I retired, I was looking for new interests and involvement and I remember one Sunday night seeing a special interest segment on the news about puppy caring of Seeing Eye Dogs and thinking that would be a nice thing to do.  Luckily it was followed up by an article in our local newspaper a few days later and I immediately phoned for an application form". Within four weeks, a little black female Labrador called Oriana came to stay with Jeni for the first year of her life.
"Training a little puppy was new for me," Jeni said, "but the ongoing support and frequent visits from my Puppy Development Trainer, and knowing I could phone for advice and reassurance at any time, made this a wonderful new experience". Attending ongoing puppy training sessions and outings with other puppy carers has enhanced the feeling of being part of a family.
Jeni has now cared for 15 Seeing Eye Dog puppies, 10 of which graduated successfully. "Socialising each of these beautiful and unique puppies (and being able to take them everywhere with me in their training coats) has been a wonderful way to remain physically active and socially engaged, gaining new skills, making life-time friends, and the great satisfaction of knowing I'm making such an important contribution to the life of someone who is blind or has low vision," she said.
She is now a breeder carer for Suki, a golden retriever, who this year will have her first litter of puppies, who will become the next generation of Seeing Eye Dogs.
"Remembering back to seeing that article in the local paper years ago, I am so grateful I applied to become a volunteer puppy carer as it has been one of the most enjoyable and enriching experiences of my life".
Image
Summary
A puppy carer who has raised 15 puppies and counting!